Dr. Haimanote Bayabil (ሃይማኖት ባያብል)
Assistant Professor, Water Resources
Program Areas
Research

Departmental Research Areas:

Land and Water Resources Engineering

Research Focus:

Application of smart technologies (e.g., UAVs and sensors) in agriculture
Improving water use efficiency of urban and agricultural areas through the use of innovative technologies and practices
Assessing the impact of climate change on crop water requirements and water resources
Assessing the effects of land and water management practices on water quality and quantity using field observations and model simulations
Integrating field observations with remotely sensed data to understand soil moisture and evapotranspiration dynamics, crop water stress for different cropping and management systems
Understanding hillslope biophysical processes (e.g., runoff, erosion, nutrients, etc.) at plot, field, and watershed scales through modeling and field observations.
Dr. Haimanote Bayabil is an Assistant Professor of Water Resources in the UF/IFAS Department of Agricultural and Biological Engineering. He conducts his research and extension program at the Tropical Research and Education Center (TREC) in Homestead, Florida. Dr. Bayabil holds a Ph.D. in Biological and Environmental Engineering from Cornell University with specializations in hydrology, and soil and water management.
His previous research has focused on topics that include irrigation scheduling; hydrologic and water quality modeling; field monitoring and modeling of hillslope runoff and erosion processes, and soil moisture dynamics; evaluating and developing best land and water management practices; climate change impact modeling; and greenhouse gas flux monitoring.
Dr. Bayabil's research and extension program at UF/IFAS TREC primarily focuses on developing practical and sustainable water management practices that conserve freshwater resources while at the same time enhancing plant yield and water quality.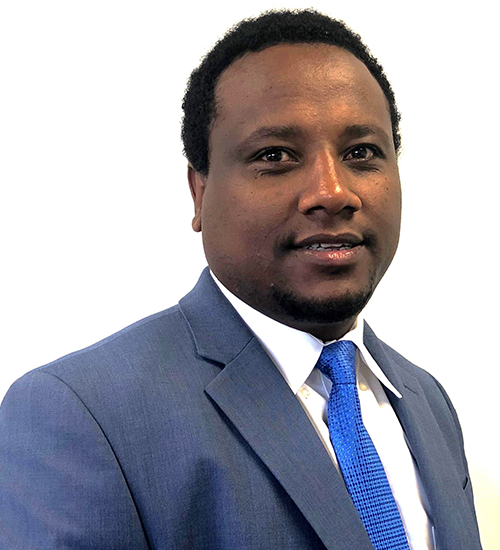 Contact Information
786-217-9253
Office:
Tropical Research and Education Center
Mailing Address:
18905 SW 280th St.
Homestead, FL 33031-3314
Education

Ph.D. Biological and Environmental Engineering, Cornell University, 2015
M.P.S. Cornell University, 2009
B.S. Alemaya University, Ethiopia, 2003

Awards and Honors

Outstanding Young Extension Worker Award, Florida Section American Society of Agricultural and Biological Engineers (ASABE), 2021

Outstanding Young Researcher Award, Florida Section American Society of Agricultural and Biological Engineers (ASABE), 2020

Fellow, The Borlaug Leadership Enhancement in Agriculture Program (LEAP) Fellowship, 2011

American Society of Agricultural and Biological Engineer
Alpha Epsilon Honor Society