ABE P-Card Receipt Submission Form
Reminder: All P-Card purchases must be below $2000 and tax-free. If you need someone to order software or hardware on your behalf, please reach out to the correct contact.
This guide will explain how and when to use the ABE P-Card Submission form. If the form is not working correctly or showing an error, please contact ABE IT via the IT Support Ticket form.
The ABE P-Card submission form is used when submitting receipts for tax-free purchases made with your P-card.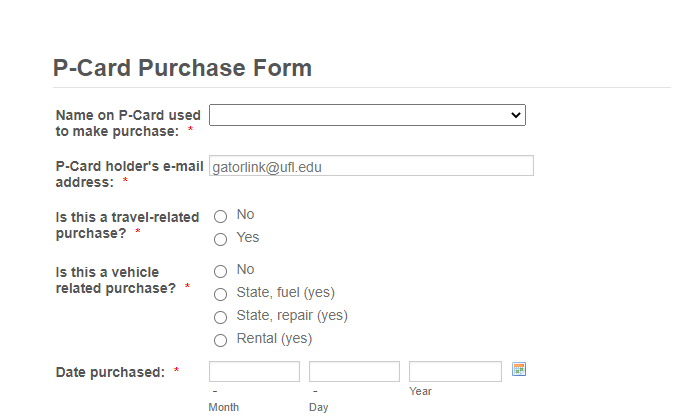 To begin, you will select your name from the drop-down at the top of the form. If your name is not listed, and you possess a P-card, please submit an ABE IT support ticket.
You will then enter your UFL e-mail and select whether or not this purchase was travel-related. Travel-related purchases include usage of ABE-owned vehicles, rentals, flights, hotels, or other travel-related expenses totaling <$2000.