Teaching
Undergraduate Courses
The Agricultural and Biological Engineering graduate studies program offers an opportunity for students to earn a certificate in biological systems modeling. Engineering and science graduate students and professionals will be trained to model a wide range of biological and environmental systems. A tiered course structure introduces students to conceptual modeling, model development and design with high-level programming languages, and an overview of the model application to simulation of biological systems. [Learn more ...]
Graduate Courses
Teaching Philosophy of Rafael Muñoz-Carpena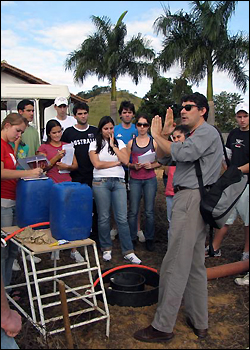 My teaching is inspired by a belief that critical scientific basis is the foundation of innovative engineering. Engineers often are rule-driven, and at times rigid in their mindsets. Over time, this has led in some disciplines to a widening gap between state-of-practice and state-of-the-art solutions.
By expanding the student's scientific understanding of engineering problems, particularly in hydrology, we can critically review available engineering practice ("recipes") and identify advantages and limitations of established methods, as well as alternative state-of-the-art methods. Through this approach we seek that student engineers provide creative answers to existing and new problems.
The critical view we propose is developed not only through comparative study of methods currently applied to engineering problems in the USA and abroad, but also by bridging across disciplines to find out other ways of approaching problem-solving. We believe that students that have learned these skills can inspire creativity in their professional environments later on and that this will allow then to achieve long, successful and exciting careers.
This page was last updated on November 05, 2020.