Extension
This program assists UF faculty in the County in implementing Extension education programs focused on the impact of the Everglades restoration process on agriculture and natural resources. These programs make available information about water-use practices related to agriculture, such as irrigation and water conservation, that will improve the compatibility of agriculture with the natural ecosystem and the expanding urban population in south Florida.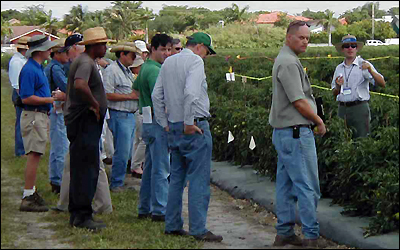 Other aspects of the program involve participation in state major programs, developing County in-service training programs, authoring electronic and hard copy materials (see Links section), contributing to newsletters, carrying out demonstration trials, and leading planning and reporting efforts in hydrology and water conservation (see Publications section).
The hydrology team extension efforts are focused on three distinct water issues:
This page was last updated on July 13, 2019.