Enrique Orozco López
Ph.D. Student
Hometown: Murcia, Spain
Education: BEng in Industrial Engineering (U. of Cartagena, Spain, 2010). M.Sc. in Environmental Hydraulics (U. of Cordoba and U. of Granada, Spain, 2016).
Major(s): Agricultural and Biological Engineering, Integrated catchment management
Research interests: Water quality management and hydrologic modelling in suface and subsurface flow paths. Soil physics. Contaminant fate and transport. Time series analysis. Sensitivity and uncertainty analysis.
Research
Influence of Preferential Flow on Coupled Colloid, Nitrogen, and Phosphorus Transport through Riparian Buffers. USDA-NIFA AFRI Project Accession no. 1009650
Water quality time series generation by empirical methods in Guadaira river, Spain.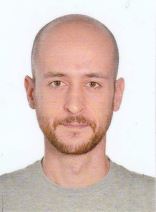 Contact
Enrique Orozco
Department of Agricultural
& Biological Engineering
284 Frazier Rogers Hall
Gainesville, FL 32611-0570

(352) 392-1864
eorozcolopez@ufl.edu Researchgate Google Scholar Personal web