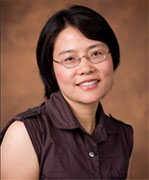 103 Frazier Rogers Hall
P.O. Box 110570
University of Florida
Gainesville, FL 32611-0570

Phone: (352)-392-1864 X 103
Fax: (352)-392-4092
Email: ztong@ufl.edu
Zhaohui (Julene) Tong, Ph.D.
Associate Professor
Zhaohui (Julene) Tong is an Associate professor in the Department of Agricultural and Biological Engineering at University of Florida (UF). Before joining the UF, she had worked as a consulting engineer in Energy and Chemical Division of Ch2mHill Engineering Ltd. for two years. She obtained her PhD degree in the School of Chemical & Biomolecular Engineering at Georgia Institute of Technology in 2007.Her work has been supported by multiple agents such as U.S. Department of Agriculture (USDA) and Department of Energy (DOE).
Course Taught: ABE 6654C/ ABE 4655C: Advanced & Basic Biobased Products
Research Interests
Zhaohui's research interests lie in the synthesis of sustainable biopolymer system, bio-nanocomposite synthesis and self-assembling, the conversion of biomass (agricultural and forestry residues) to chemicals, fuels and value-added byproducts.
Extension Program
Bioenergy and bio-based products is a new extension program to meet the increasing demand of the information on this state-of-the-art area in Florida. The conversion of energy and materials from agricultural residues or forestry residues is a long-term sustainable program to meet Florida energy requirement. Zhaohui's extension effort is dedicated to providing the knowledge about the bio-based product conversion technologies, bio/chem- process design and novel applications of bio-based materials to Florida extension specialists, industries, farmers, and other practitioners.