Dr. Yiannis Ampatzidis
Precision Agriculture, Smart Machines
Dr. Yiannis Ampatzidis began as an Assistant Professor in 2017 and leads a research and extension precision agriculture engineering program in the Southwest Florida Research and Education Center (SWFREC) in Immokalee, Florida. Dr. Ampatzidis received his B.S. in Agriculture Science in 2002 from the Aristotle University of Thessaloniki (AUTH) in Thessaloniki, Greece, with a major in row crops and ecology. After completing his bachelor's degree, Dr. Ampatzidis enrolled in the Agricultural Engineering department and completed his M.S. in 2005 with an emphasis in precision agriculture and robotics. At the same time, he completed his second bachelor's degree in Hydraulics, Soil Science and Agricultural Engineering in 2008 (AUTH). He received his Ph.D. in Agricultural Engineering from AUTH in 2010 with an emphasis on precision agriculture and automation for specialty crops.
Dr. Ampatzidis works in the area of mechanization and automation of specialty crop production. He focuses on the design, development and testing of sensors and control systems for optimal management of inputs, resources and products. Dr. Ampatzidis' current research focuses on mechanical harvest of specialty crops, mechatronics, arti cial intelligence, machine vision, precision agriculture, precision irrigation, smart machines, UAVs and machine systems. Dr. Ampatzidis has a special interest in development, implementation and evaluation of agricultural machines and control systems for high value crops (precision agriculture applications, remote sensing, embedded systems developing and programming, UAVs-drones, GIS applications).
Extension
Extension program in precision agriculture includes development of an educational program to promote adoption and evaluation of state-of-the-art precision agriculture equipment and techniques with a goal of improving the profitability and environmental sustainability of Florida's fruit and vegetable industry
Integrates knowledge from multiple academic domains, particularly in aerial systems and advanced sensor technologies for citrus and vegetable production
Research
Research program involves unmanned aerial vehicles (UAV) for agriculture and natural systems, smart sensors and machinery, mechatronics, artificial intelligence and robotics, machine vision and learning, automation, remote sensing, wireless sensor network, and big data application

Emphasis is being given to developing smart machines and equipment for site-specific applications (e.g. precision sprayer for pests and weeds) in order to reduce agricultural inputs such as water, fertilizer, and pesticides.

Research area includes the mechanization and automation of specialty crop production (e.g. harvest), focusing on the design, development, and testing of sensors and control systems for optimal management of inputs, resources and products
In the combined extension and research program, he collaborates with other faculty and research partners, creating synergy both inside and outside of the University of Florida to provide leadership in precision agriculture, automation and robotics.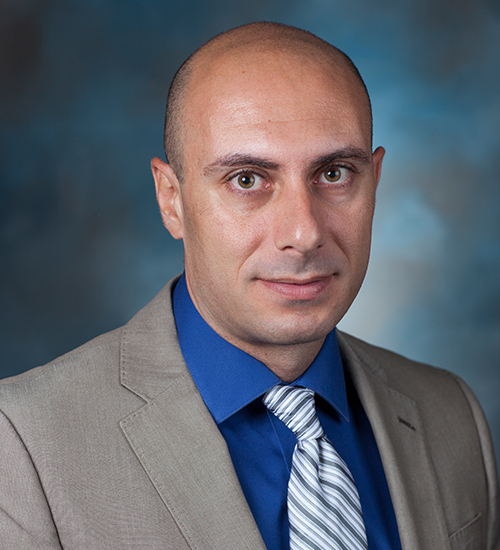 Yiannis Ampatzidis - Assistant Professor