Graduate Student Research Projects
A wide diversity of topics allows graduate students in the ABE department to delve into areas of cutting-edge research, with many choosing projects incorporating international opportunities. Students work closely with faculty advisors in their chosen their areas of interest to define and develop their proposals. The following are examples of current graduate student research.
Samuel Aso - PhD Program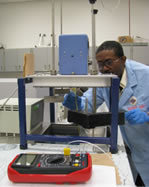 Project Title: Synergistic Enzymatic Hydrolysis of Cassava Starch
Specialization: Food and Packaging Engineering
Advisor: Dr. Arthur A Teixeira
Cassava is a major tuber crop and source of food carbohydrate for humans. It is also of great economic and subsistence value to more than 500 million people around the world. In 2010, the global cassava production output was 229,540,896 tonnes; and virtually all the production was achieved in the developing nations. Furthermore, cassava has potential for various consumer and industrial products, including sweeteners, flour, starch, livestock feed, fuel alcohol, and biochemicals. However, the current processes for conversion of cassava tubers to value added products are rather expensive and far from optimum. Conventionally, glucose sweetener is produced from extracted starch in two separate processes called liquefaction and saccharification. Each of the two processes has to be satisfied in terms of equipment, raw materials inputs, process conditions, technical manpower, and other cost elements.
"For example, the liquefaction process demands elaborate equipment and energy inputs, and the starch extraction operation is energy, labor and technology intensive", explains Samuel Aso. "These requirements place glucose and other value added cassava products beyond the reach of the developing nations. The goal of our research is to develop a process for sweetener production from cassava at a level and scale that can be accommodated by the constraints and resources that are prevalent in the rural or village communities of the developing nations."
The research will minimize the energy, equipment, technical inputs and the overall cost hitherto required for the production of sweeteners from starch. This is being achieved by designing a synergistic and simultaneous process that calls for the liquefaction and saccharification processes to be executed as a single operation; and by utilizing raw materials that have not undergone the expensive and energy intensive starch extraction procedure.
"This is an exciting endeavor in that we are engaged in a new research frontier of synergistic and simultaneous hydrolysis reaction", notes Aso. "The results of our research can be applied by people with low income or financial resources and little or no technical skills anywhere in the world for the production of sweeteners that could be used by the households."
The sweeteners may also be used by the brewing, bakery, confectionary, juice drink and pharmaceutical industries. In addition, the research will foster appropriate technologies for cottage industries, encourage the use of indigenous raw materials, enable local capacity building, as well as promote the economic empowerment of rural dwellers.
Isaya Kisekka - Ph.D. Program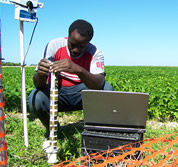 Project Title: Simulating Water Table, Soil Water and Crop Growth Response to Fluctuations in Canal Stage in Farmlands East of Canal-111 in southern Florida
Specialization: Water Resources
Advisor: Dr. Kati Migliaccio
To answer the question of how the ongoing hydrological modifications would impact water table levels, soil water and crop growth in the adjacent farmlands, the South Florida Water Management District (SFWMD) in partnership with the growers is the area decided to fund Isaya Kisekka's current research project.
Hydrological modifications in form of structural and operational adjustments involving incremental raises in canal stage are planned along one of the major canals draining south Florida (i.e., C-111), as part of the Comprehensive Everglades Restoration Plan (CERP). C-111 separates the Everglades National Park (ENP) from agricultural production land in south Miami-Dade County and is hydrologically connected to the underlying Biscayne aquifer.
" It is anticipated that the raise in C-111 canal stage will affect water table levels in the adjacent farmlands," explained Isaya. "The project involves automated high temporal resolution monitoring of groundwater table levels in the Biscayne aquifer and soil water content. I addition, I am developing analytical and numerical modeling tools for prediction of this two hydrologic state variables."
The data set collected over a 4 year period would be a great contribution for those interested in a comprehensive study of the interaction between surface water in canals and groundwater in the Biscayne aquifer and how this interaction impacts landuse for agricultural production at the study site. The models developed would also be used to fine tune operational adjustments along C-111 in order to have minimum impact on agricultural Landuse on the eastern side of the canal.
"The most interesting aspect of my project is that it involves both fieldwork and computer modeling and how I am using various scientific techniques to solve a real world problem," noted Kisekka.
Melissa Crowder - Ph.D. Program

Project Title: The effects of aging on noise levels of agricultural tractors
Specialization: Agricultural Tractor Noise
Advisor: Dr. Carol Lehtola
In her job as an environmental, health and safety coordinator for the University of Florida, Melissa travels to the off-campus IFAS research centers. She's well aware of the fact that farmers and agricultural workers have significant exposures to noise from many different sources. One of those sources is tractors. 
"The research education centers throughout Florida have approximately 200 tractors of 15 different makes with varying years and models," explains Melissa. "Having access to the sound level equipment and tractors at the centers in my current work situation makes this an ideal project without funding to complete this research." 
The majority of tractors when they are new are tested by The Nebraska Tractor Test Lab for noise level.  The work that has been done in this field are noise measurements of new tractors of various models.  There have been noise measurement studies of tractors and how their noise levels harm farmers' hearing.  There have been studies on how tractors with cabs have lower levels of noise than tractors without cabs. 
"There are no studies comparing noise levels of new tractors and a follow-up later in time of how that noise level changes with age and wear, usage and maintenance," notes Melissa. "Measurements will be taken in this study to see how these noise levels change and to fill this gap in data."
Melissa says that there are several objectives of the study that interest her, including determining if tractors become louder as they age; if there are significant differences between tractor models noise levels; if older model tractors are louder than newer tractors and also determining a rate at which tractors become louder over time.
Tom Olmstead - Ph.D. Program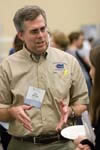 Project Title: Irrigation Management Strategies for Water Reduction in Residential Turfgrass Landscapes
Specialization: Water Conservation
Advisor: Dr. Michael Dukes
Ride through any neighborhood on a rainy summer day and you're sure to find a few houses with the sprinklers on. That's because most residential irrigation systems run on timers, and that's a practice the research Tom Olmstead is involved in hopes to change.
Florida's water resources are reaching the point of being unsustainable due to increased development and at times, drought conditions. A large portion of Florida's water resources are being applied to turfgrass landscapes. Tom is currently working with Dr. Michael Dukes who is studying new irrigation technologies that have the potential of reducing landscape water usage.
"I am looking forward to applying science to improve irrigation management strategies that reduce water usage on residential landscapes. This research will fit nicely with the information I am learning from the water supplier perspective in my work with Conserve Florida Water Clearinghouse and Dr. Jim Heaney in Environmental Engineering department," explains Tom.
The research will show the effectiveness of using soil moisture sensors and other irrigation management practices at reducing residential irrigation water usage. Developers may use this information to market their homes as "green" water saving homes. Water utilities will now have scientific data on water saving expectations when they promote water conservation practices.
Tom says, "The most exciting aspect of the project will be seeing developers and builders adopting this technology and water utilities promoting these strategies and seeing the actual water use per landscaped area reduced."