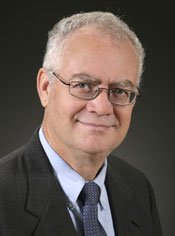 Fedro Zazueta
E-mail | Website
1012 Turlington Hall
P.O. Box 117345 Gainesville, FL 32611
Phone: (352)392-0365 Fax: (352)392-7065
Fedro Zazueta is a professor in the Agricultural and Biological Engineering Department who currently serves the University of Florida as Senior Director of the Office of Academic Technology. In this role, Zazueta is responsible for the wide variety of information technology services that support the university's mission of teaching, research, and service. He came to this position as the result of 25 years on the front lines of computer applications in agriculture, including software engineering, expert systems, computer control, simulation, and geographical information systems (GIS). In the process, Zazueta has become an international leader in agricultural computer applications.
Zazueta began his education with a degree in civil engineering and a master's degree in agronomy at the Tecnológico de Monterrey, México. He followed this with a doctoral degree in agricultural engineering at Colorado State University. His dissertation was titled "Simulation of Agricultural Drainage Systems", suggesting an early engagement with computers in agriculture and a diverse background in engineering, natural systems, and computer applications. In his earliest days at the university, Zazueta proposed starting a program in computers in agriculture. He began teaching a class in software engineering for agricultural engineers, encouraging faculty to develop computer applications in their research, establishing a software office to provide support to agriculture stakeholders, and organizing state and international conferences in computers in agriculture.
With the introduction of the desktop computer in the late 1970s new opportunities presented themselves for improving outcomes of teaching, research and extension. The desktop computer became what Zazueta refers to as a disruptive technology, a term coined in 1995 by Clayton Christensen to describe a technology that reaches a new and different population. Indeed, the personal computer made computing and information services to millions of people who would otherwise not have access.
Zazueta was quick to grasp the possibilities of each new wave of information technology. In 1982, he was instrumental in creating the IFAS Software Support Office that was focused on developing and delivering software to the agriculture industry in Florida. He organized computer conferences that were to evolve into the World Conference on Computers in Agriculture, now held every year in a different country.
Zazueta and his colleagues in IFAS, Howard Beck, Pierce Jones, Jianong Xin, John Jackson, Jim Jones, and Freddie Johnson, among others, brought the latest developments to IFAS's teaching, research, and extension programs. This team put IFAS at the forefront of the information technology revolution.
In the mid 1990s, Zazueta was tapped to head the committee that reviewed the status of computer systems in IFAS and basically found many different efforts working in isolation within this large statewide organization. The committee proposed a strategy for unifying these efforts, reducing redundancy, and making resources available more widely in IFAS. The result was IFAS's Office of Information Technology, and Zazueta was appointed to head it up.
It was during that time that several systems were improved and new systems put in operation at the enterprise level by the IFAS IT Office. The Electronic Data Information Source (EDIS) was created as an enterprise effort that became the cornerstone of a state-of-the-art system, at first for publishing Extension publications over the Internet, and later for authoring publications. As an integrated publication management system, EDIS became a national model. The Distance Diagnostics Information System (DDIS) for identification and diagnosis of pests and diseases was developed, which is used by several countries. The Florida Agriculture Weather Network (FAWN) was established to provide real-time information to the agriculture industry in Florida to make strategic and tactical management weather and climate related decisions.
This leadership and foresight led to Zazueta's current position in which he is responsible for IT services in support of the academic mission of the university. This responsibility extends to every stakeholder of the university. The Office of Academic Technology is not only responsible for maintaining current services, but also for looking into the new possibilities of technology and the implications of emerging technologies. An enterprise like a university is inherently conservative, and yet it also an important source of innovation.
When asked about the next wave of technology, Zazueta points to mobile devices, which are soon to be the most widely used electronic devices in the world. He says that many developing nations that never had the finances to install the vast network of wires and cables that we take for granted in the U.S. have "leap-frogged" that level of technology and gone straight to wireless. He describes a mobile educational device that India is developing that costs about $25 a unit and will eventually be distributed to millions of people in India to bring higher education to rural areas.
Education remains at the core of Zazueta's motivations. Though he has a demanding job as a full-time administrator, he does not want to lose his "academic edge." He continues to teach classes and guide graduates students. He also remains very active in his national professional society. He is a Fellow of the American Society of Agricultural and Biological Engineers (ASABE). He currently serves as president of the International Commission for Agricultural and Biosystems Engineering (CIGR) that encompasses all the related professional organizations worldwide. Zazueta helped found and continues to guide the World Congress on Computers in Agriculture. During the past 28 years, this conference has been held in locations around the world on all continents. Zazueta's involvement in so many aspects of the profession helps him to stay in touch with needs, developments, and the user experience. He wants his administrative role be tempered by the perspective of a professional engineer and academic.
Mobile and distance education will become increasing trends at the University of Florida as well. Zazueta says that Internet-based education can increase the availability and flexibility of university programs, and students expect increasing options for how they will acquire the information and skills essential for the their careers.
In this regard, Zazueta is involved in a major new effort called Sakai, an open-source set of computer applications for teaching, learning, and "academic collaboration." Applications within the Sakai suite are constantly being developed at different American universities. Because it is open-source, improvements can be readily adopted. . This kind of open, collaborative development is a new working model for universities, which will help them in capturing and implementing new waves of technology as they appear.
Director and Professor
Dr. Zazueta specializes in applications of information technology to agriculture, such as: modeling, expert systems, grid computing, and decision support systems, particularly in water management.
Research
Current research focuses on the use of grid computing for modeling agricultural systems.
Education
Ph.D. in Agricultural Engineering, Colorado State University, USA 1982
M.S. in Agronomy, Tecnológico de Monterrey, México 1977
B.S. in Civil Engineering, Tecnológico de Monterrey, México 1974
Professional Experience
2002-Present: Director & Professor, Office of Academic Technology, University of Florida
1997-2001: Director & Professor, UF/IFAS Information Technologies Office
1982-Present: Professor, UF, ABE
1986-1992: Associate Professor, UF ABE
1984-1986: Assistant Professor, UF ABE
1982-1984: Visiting Professor, University of Florida Agricultural & Biological Engineering
Awards and Honors
Inductee, International Academy of Agricultural and Biosystems Engineering 2015
GSD Distinguished Service Award, 2006
ASABE Fellow, 2005
USDA Outstanding Service Award
Outstanding Leadership Award, American Society of Agricultural Engineers (ASAE)
Young Engineer of the Year, Florida Section of ASAE
Florida Davis Productivity Award, Florida Tax Watch Foundation
Teacher of the Year, Tecnológico de Monterrey Student Association. 
Gamma Sigma Delta Honor Society
Alpha Epsilon
Phi Beta Delta Honor Society for International Scholars
Phi Kappha Phi
Other Professional Activities
American Society of Agricultural & Biological Engineers
International Commission of Agricultural Engineering (CIGR)
Asociación Latinoamericana de Ingenieros Agrícolas
Pan American Federation for Information Technology in Agriculture
Professional Service
Chair, Joint Conference of the Asian Federation of Computers in Agriculture and the World Conference n Computers in Agriculture, Bankgkok, Thailand, 2004.
Chair, World Conference of Computers in Agriculture, Iguazu Falls, Brazil, 2002.