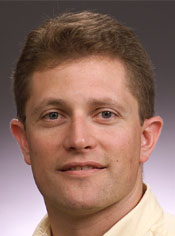 Bruce Welt
E-mail |
Department of Agricultural and Biological Engineering
229 Frazier Rogers Hall, PO Box 110570 Gainesville, FL 32611
352-392-1864 ext. 229
With degrees in chemical engineering, food science and agricultural and biological engineering, Dr. Bruce Welt completed his education at the University of Florida with prominent food-process engineer, Dr. Art Teixeira. He then spent a few years in industry before returning to UF to help start the packaging science program, which he leads today. Welt's background gives him a broad view of his field, with the practicality of a working engineer and the insight of a researcher. He applies this balanced view in his research and in his teaching.
Welt's experience with packaging goes way back. His father was a pioneer in food irradiation, and Welt recalls vividly how irradiation made it possible for a new range of foods to be taken up into space for the astronauts. He describes how his mother would cook steaks, then his father would package and sterilize them, and they would be sent off to NASA. Bruce Welt and his brother started a company based on distributing dried fruits, vegetables and nuts. The Welt brothers designed packages for these products and learned the practical requirements of packaging as well as the aesthetic requirements. Today, Welt's research is a logical development of these opportunities as he pushes packaging materials in new directions to improve their performance and capabilities.
It is easy to take packages for granted. They are everywhere, and virtually everything we buy comes in one. Even from ancient times, a wide range of materials were used to package goods for sale, storage, or transportation. Wood, cloth, glass, metal --- all these have been used, and continue to find a role in packaging. However, in the twentieth century, the introduction of plastics opened up new possibilities for packaging. A succession of plastics were developed, each of which had specific properties that made it a good choice for some packaging applications and a less good choice for others. The range and usefulness of plastics is so great that the majority of packages --- and many products as well -- are either wholly or partly plastic.
Welt's research focuses on plastics that are used for food packaging. He says that one of the most important issues in using plastics with food is called permeability, which measures the amount of oxygen that can pass through the plastic. Plastics are made of molecules which are long chains of repeating subunits. Electrical and mechanical forces hold the chains together, and that gives plastics their solid but often stretchy nature. There is room between these chains for small molecules to work their way through.
Permeability is not necessarily a bad thing. Welt explains that when broccoli or lettuce are harvested, it is like a cut flower, it is fresh and alive, but the clock is ticking. The goal of the farmer, distributor, and grocer is to get these products to the consumer in the freshest condition possible. Oxygen works both for and against this. Too much oxygen, and the products ripen too rapidy and may be in poor condition by the time they get the grocery shelf. Too little oxygen also causes rapid deterioration due to something similar to suffocation. An ideal amount of oxygen leads to longest preservation of quality. Researchers in this area of "modified atmosphere packaging" seek first to find the best oxygen level for each specific product, and then they seek package designs that will maintain that optimum level.
Recent research in Welt's laboratory has been aimed at adjusting the properties of a common and inexpensive packaging material, polyethylene, so that its permeability toward oxygen can be set at just the right level. In general, there are two ways to do this. One is to add chemicals to the polyethylene which changes its bulk properties, and the other is to layer different plastics to get the right combination of properties. Welt is taking a third approach to the problem by developing a gas barrier "paint." Welt adds tiny particles called nanoparticles to the paint, and the more particles, the less permeable the plastic when it is coated with the paint. This approach has economic benefits because food is better preserved in a material that costs less to produce. There are ecological benefits as well, because layered plastics are less likely to be recyclable than minimally coated plastics.
The trick, Welt says, as with any paint, is getting it to stick. Polymers like polyethylene does not stick to other materials easily. This is one reason that they are so useful, but when something like a paint layer must stick, the plastic must be treated. One method that can "activate" the plastic surface is singeing it with a flame. Of course, not just any flame will do, and Welt uses a rather high-tech plasma torch that uses a stream of nitrogen generated plasma.
While Welt's research focuses on manipulating the permeability of plastics, he must also have a deep understanding of how to test plastic permeability. He is fortunate to have a state-of-the-art machine that does that. It is the same one used by the American Society for Testing Materials (ASTM) in its tests, which produce the standard data used throughout the industry. The device is very expensive and requires a delicate touch, and it uses a very expensive gas as part of the testing regime. These factors were compounded by the number of tests that Welt's work requires, and it started him thinking. The result was a very simple device that uses fluorescence to detect the presence of oxygen. The elegance of this approach captured industry attention and Welt is in the process of patenting the device.  Welt's oxygen transmission rate measurement technology is now under license by Dallas, Texas-based Oxysense, Inc.
Recently, Welt has begun to work on a project that goes back to his roots -- food irradiation. Food safety is an important issue as the increasing numbers of consumers, products, and outlets meet new packaging materials and new pathogens. Food processing, distributing, and serving must all be conducted under the so-called HACCP (Hazard Analysis and Critical Control Points; pronounced "hassup") protocols, which are designed to ensure proper handling and storage at each point in a food product's development. However, HACCP may not be enough to give consumers the level of assurance in food safety that they require. Food irradiation is a simple and practical approach that can increase that margin of safety. But there are important questions about how the energy that irradiation uses affects packaging in contact with foods when treated. With a new generation of packaging materials come a host of new questions about this interaction, and Welt is beginning to take on some of these questions.
As active as his research program is, much of Welt's time is devoted to the packaging degree program he helped found over ten years ago. The program has grown steadily since its beginning, and its graduates are already becoming masters of the packaging industry. Welt teaches several courses a year in the program and works with several graduate students as well. The degree is called Packaging Science, but it now includes a full complement of engineering courses, so that students will be well prepared for the demands of industry or to continue on with higher degrees.
Professor
Dr. Welt specializes in the science and engineering of packaging, smart packaging, interactions of packaging materials with foods and the effects of food irradiation on packaging materials. He also serves as Undergraduate Coordinator for the Packaging Science program.
Teaching
PKG 3103Food Packaging
PKG 4008   Distribution and Transport
PKG 4101cComputer Tools for Packaging
PKG 4011Packaging Production and Processing
PKG 4905   Senior Design in Packaging Science
Research & Extension
Gas permeation for modified atmospheric packaging applications (MAP)
Irradiation of food contact materials
Food-package interactions (migration, aroma scalping, moisture gain/loss, etc.)
Track-and-trace system development and testing (RFID, vision systems, 2D barcodes)
Distributed packaging-relational database applications prototyping
Flexible package prototyping and leak testing
Education
Ph.D. Food Process Engineering, University of Florida, 1996
M.S. Food Science, Rutgers University, 1993
B.S.Chemical Engineering, Clarkson University, 1989
Professional Experience
2011-Present
Professor, University of Florida Agricultural and Biological Engineering
2006 to 2011: Associate Professor and Undergraduate Coordinator University of Florida Agricultural and Biological Engineering, Packaging Science Program.
2000 to 2006: Assistant Professor and Undergraduate Coordinator University of Florida Agricultural and Biological Engineering, Packaging Science Program.
1998 to 2000 :President, Alpha Omega Technology, Inc. Cedar Knolls, NJ.
1996-1998: Process Engineer, Nestlé R&D Center, Inc. Marysville, OH.
Awards and Honors
American Colleges and Teachers of America (NACTA) 2007 Teacher Fellow
Undergraduate Teacher of the Year, College of Agricultural and Life Sciences, 2003
Other Professional Activities
Representative, UF University Senate, 2014-2017
Institute for Packaging Professionals (IoPP)
Institute of Food Technologists (IFT)-
Food Packaging Division American Society of Agricultural and Biological Engineers (ASABE) – Packaging Division
UF/CALS Academy of Teaching Excellence