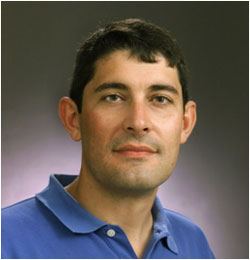 Rafael Muñoz-Carpena
E-mail | Web Site
Department of Agricultural and Biological Engineering
287 Frazier Rogers Hall , PO Box 110570 Gainesville, FL 32611
352-392-1864 ext. 287
Rafael Muñoz-Carpena is what you might call one of the new hydrologists. In addition to traditional hydrology, studying how water moves through the environment, he incorporates ecological factors, such as the impact of water use on plants, animals, and the local environment, and uses computer modeling to quantify effects and create mathematically based management tools.
Florida's water situation demands a broader view of hydrology. First, surface and subsurface waters are closely connected and shallow aquifers are common because of a unique combination of rainy humid conditions, highly permeable soils in very low lands, and sometimes the presence of restricting layers inside the soil. Florida's water is continuously moving through vertical and horizontal channels. In North Central Florida, numerous springs bring the ground water to the surface and sinkholes send water down to the aquifer. Similarly, wells create an artificial link, bringing water from the surface to the ground. Second, the picture is made more complex by the closeness of developed land and environmentally sensitive land throughout the state. Any actions in one area can quickly impact adjacent areas. Management of Florida's water resources requires what Muñoz-Carpena describes as a "systems approach," which takes into account all the relevant factors when considering land and water use issues, rather than looking at development in isolation.
Muñoz-Carpena explains that impacts of hydrological changes by humans can be measured in the environment. Each natural area of Florida -- wetlands, prairies, dune communities, rivers, etc. -- can be characterized by valuable ecosystem components or VEC. In each one of these natural habitats, there are specific indicator species that can tell us how healthy the habitat is. Among the VECs for a specific habitat, there could be an insect, a bird, a plant, or some other species. By observing the changes in the populations of these creatures, positive and negative impacts can be assessed. A decline in a bird species, for example, may signal a reduction in nesting sites, the presence of a new predator or infectious agent, a reduction in the food this bird eats, or the introduction of a water contaminant.
Muñoz-Carpena and students have studied in depth the Loxahatchee River, sometimes described as the last truly free-flowing river in Florida. The Loxahatchee system is located in Palm Beach and Martin Counties and is composed of three tributaries that combine into the Loxahatchee River. Wetlands and marshes are also associated with this system. The river flows east to the Indian River Lagoon, where it empties into the Atlantic. The Loxahatchee is an estuary system, which means that fresh and salt-water mix near the mouth of the river. In the case of the Loxahatchee habitat, an important indicator species is the bald cypress. The Loxahatchee basin is surrounded by development, and as development draws water out of the river, salt water moves further up the river -- an effect called salt-water intrusion. Bald cypress exposed to too much salt water die and become an indicator that many other changes are taking place in this sensitive environment.
Careful study of this area allows Muñoz-Carpena's research team to present decision-makers in the Loxahatchee area, in cities like Lake Worth and Jupiter, with scenarios for how development decisions will affect the natural habitat. With this information, community leaders can make informed decisions. Florida's natural beauty is one its biggest selling points, but preserving this beauty requires careful planning. Continued salt-water intrusion isn't just an aesthetic or stewardship issue. Eventually, the sources of fresh water that supply the local communities will be affected. Muñoz-Carpena is also investigating how the area will change as sea level begins to rise and the pressures pushing salt water inland increase.
A critical question for any natural system is: How can we know when we have pushed it too far? There are many areas of the world that have become case studies for development that has pushed its natural environment beyond the point of recovery. This is one reason that natural habitats must be studied so carefully to understand precisely how they work. Obviously, Florida will continue to grow for the foreseeable future, but with careful planning, the right balance can be found so that in 20, 50, or a 100 years' time, the state won't be faced with another Everglades -- a natural area whose importance was not understood and was pushed almost to the brink.
The Loxahathcee is just one example of the areas where Muñoz-Carpena has applied the systems approach. He has worked extensively in the Everglades. He has also taken the knowledge he has gained and applied it overseas, notably in the Okavango delta, an inland river system surrounded by the Kalahari Desert in south central Africa. The Okavango flows through Angola, Namibia, and Botswana. This naturally complex river system is therefore subject to equally complex political pressures. Muñoz-Carpena is also interested in the Palo Verde area of Costa Rica where years of internationally funded development have seriously compromised the quality of the environment.
In discussing water resources, Muñoz-Carpena refers to the gap between what we think we have and what we really have. In Florida, water seems to be everywhere, but that water is part of a natural system that is at risk in many areas of the state because of intense development. Muñoz-Carpena cites the "preference for local sources" directive from state government as one hopeful sign that Florida will take positive steps toward sustainable development by insisting that development can only proceed when the water resources to support that development are locally available. This can prevent decisions from being made that have local benefits at the cost of distant environments.
Muñoz-Carpena's work is driven by a strong basis in scientific inquiry. He believes that too often engineers can be so rule-based and attached to precedents or formulas that their practice can fail to evolve with the latest scientific findings. This is another gap he is concerned about, which he describes as the state-of-the-art vs. the state-of-practice gap. Too often, engineers become focused on "the answer" instead of trying to understand the variability in the system and looking at the range of answers that a systems analysis should provide. As part of his work, Muñoz-Carpena conducts formal analyses of the variability or uncertainty in his mathematical models. This can involve using high performance computers to run the models many thousands of times.
For his own work and that of his many students, Muñoz-Carpena insists on a strong scientific basis and an attitude of scientific inquiry. He stresses that he is not a scientist whose focus is how nature works; he is an engineer who wants to know what we can do with the knowledge the scientist reveals.
Professor
Dr. Muñoz-Carpena specializes in Surface, vadose zone and groundwater hydrology; Water quality modeling; Water conservation in irrigation system design and operation.
Teaching
Research
Education
Ph.D. North Carolina State University (USA), 1993, Biological and Agricultural Engineering, Water Resources.
M.Sc. & B.Sc., Ingeniero Agrónomo Superior, 1989, Universidad Politécnica de Madrid (Spain), Professional Engineer.
Professional Experience
2011-Present
Professor, UF Agricultural and Biological Engineering Department
2006-2011
Associate Professor, UF Agricultural and Biological Engineering Department
2005-2006
Assistant Professor, Hydrology, University of Florida Agricultural and Biological Engineering Department.
2001 to 2005
Assistant Professor, Hydrology and Water Quality. IFAS-Tropical Research and Education Center (USA). University of Florida, Agricultural and Biological Engineering Department.
1993-2001
Tenured Researcher, Instituto Canario de Investigaciones Agrarias-ICIA (Tenerife, Spain)
1994-2001
Adjunct Professor in Hydrology (Agro-Forest Engineering), Universidad de La Laguna (Tenerife, Spain).
Awards and Honors
ASABE Florida Section Distinguished Achievement Award 2016
Fellow of ASABE 2015
Corresponding Member ("académico"), Royal Academy of Engineering of Spain 2015
Hancor Soil and Water Engineering Award 2015
UF Water Institute Fellow 2013
National Postdoctoral Association Mentor Award, 2012
UF Foundation Research Professorship Award 2011
Gamma Sigma Delta Jr.r Faculty Award of Merit 2010
ASABE Florida Section Special Recognition 2009
IFAS International Achievement Award 2008
Chair, ASABE SW-21 (Hydrology) section 2007, and Chair 2008
Alpha Epsilon, Agricultural Engineering Honor Society
Gamma Sigma Delta, International Honor Society of Agricultural Sciences
The Honor Society of Phi Kappa Phi
Other Professional Activities
American Society of Agricultural & Biological Engineers, member of SW21 Hydrology Group
American Geophysical Union (AGU)
Colegio Oficial de Ingenieros Agrónomos de Centro y Canarias (Spanish Society of Professional Agricultural Engineers)
AERYD (Spanish Society of Irrigation and Drainage Engineering)