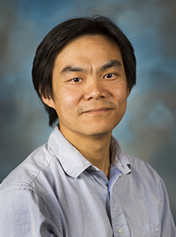 Rachata Muneepeerakul
E-mail
227 Frazier Rogers Hall
P.O. Box 110570
Gainesville, FL 32611-0570
(352) 392-1864 ext.227 fax: (352) 392-4092
Dr. Muneepeerakul (who also goes by "Chot") has worked on a wide variety of problems, ranging from life to social sciences, from biodiversity patterns in river networks to dynamics of coupled natural-human systems. His primary investigative tools are mathematical and computational models.
He is interested in dynamical models, complex networks, game theory, and stochastic processes. His diverse research interests are reflected in the projects in which he is involved and his publication record. In one project (NSF-CNH), he has been investigating how robust or vulnerable irrigation systems are with respect to rapid changes in disturbance regimes, both social and biophysical. Another recent project (DoD-SERDP) addresses the biodiversity patterns of aquatic ecosystems in dryland streams whose challenging characteristics include pronounced hydrological seasonality and spatial heterogeneity.
Several other projects are under development, all of which share a common theme of inventing and blending concepts and analytical/computational techniques from different disciplines to achieve meaningful insights.
He also has a hobby of summarizing his research in rhyme in what he dubs "summarhymes." Below are a few examples of the summarhymes.
If incentive is non-concave,
And the shift is wide,
Then there is a good chance
That population would divide.
(Based on this work on modeling how a population may respond to a shift)
When a system's scale is small, there is no labor divide.
Users and providers—they're all from the same side.
Subject to same incentives, they may work inside or out.
Resource and infrastructure depend on how they work it out.
Self-organization or planning solely
Exposes you to different kinds of vulnerability.
Too much focus on payoff and "efficient,"
And your infrastructure would be little resilient.
When people self-organize, infrastructure may be in better shape.
But their payoff is lower, making them more prone to escape.
Regime shift thresholds are lurking somewhere in there,
Infrastructure can go down quickly even if you slowly reduce care.
All these conditions can now clearly be expressed
With biophysical and social factors of interest.
With model relatively simple, we would now be
In a position to treat robustness and resilience more rigorously.
(Based on his work on modeling small-scale, self-organized coupled natural-human systems)
Networks evolve; communities get close;
And system's more well-mixed.
Local communities: more rich and similar,
If dispersal is fixed.
That is not quite the case, if we…
Allow it to be changed.
Dispersal gets more local,
While network's rearranged.
System-level patterns are more
Impacted by structures,
While local richness still declines,
As species locally disperse.
So it seems, to get a better picture
Of changes in biodiversity,
One needs a perspective
That is more evolutionary.
(Based on his work on modeling biodiversity patterns in changing river networks)
There are a few more summarhymes posted on his office door.
+++++
Associate Professor
Dr. Muneepeerakul's expertise is in system modeling; theoretical ecology; dynamical systems; biodiversity modeling; stochastic processes; modeling and simulation; networks; complex adaptive systems.
Teaching
ABE 6933 Seminar on Stochastic Modeling in Ecology and Hydrology
ABE6933 Modeling Coupled Natural-Human Systems
Research and Extension
DOD-SERDP: Predicting, measuring, and monitoring aquatic invertebrate biodiversity on dryland military bases

NSF-CNH: When Strengths Can Become Weaknesses: Emerging Vulnerabilities in Coupled Natural Human Systems under Globalization and Climate Change
Education
Ph.D. Civil and Environmental Engineering, Princeton University, NJ, 2007
M.S. Civil and Environmental Engineering, University of California at Berkeley, CA, 2000
B.S.Civil Engineering, Chulalongkorn University, Thailand, 1998
Professional Experience
2015-Present
Associate Professor, Agricultural & Biological Engineering, University of Florida
2010-2015
Assistant Professor, Arizona State University, School of Sustainability
2007-2010
Postdoctoral Research Associate, Civil and Environmental Engineering Department, Princeton University
2001-2003
Environmental Engineer, GeoSyntec Consultants, CA
1998
Civil Engineer, Metric Co. Ltd., Thailand
Awards and Honors
ASABE Florida Section Outstanding Young Researcher Award 2016
Other Professional Activities
Member, American Geophysical Union
Member, American Society of Agricultural and Biological Engineers

Member, Ecological Society of America