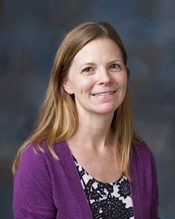 Kati White Migliaccio
E-mail | Web Site
Department of Agricultural and Biological Engineering
273 Frazier Rogers Hall , PO Box 110570 Gainesville, FL 32611
352-392-1864 ext. 273
Kati Migliaccio describes her professional focus as "all about water conservation, whether quality or quantity, and identifying realistic and sustainable solutions." Work at the Tropical Research and Education Center (TREC) in Homestead, Florida, placed her in one of the most complex and intensely managed water landscapes in the world, with the Everglades, Florida and Biscayne Bays, the Biscayne Aquifer, hundreds of miles of canals, and hundreds of water control stations. South Florida's water must not only serve its unique natural environment, it must also supply the area's 6 million residents -- a population greater than 25 U.S. states that is expected to double in the next 40 years.
Water is the main character in a sustainability drama currently playing out in south Florida. Drainage and flood control projects in the 20th century opened south Florida for extensive development and supplied fresh water to a growing population. These changes were made at a high cost to the natural environment and set the water needs of developed areas against the natural systems that supplied the water. As the area's population soared, the system was driven closer and closer to collapse. All this was set in motion before the importance of the original water landscape of south Florida was understood. But now, with a new appreciation and respect for the natural water system in south Florida, many projects are underway to make the area sustainable for the long-term.
A major culprit in this transformation is an effect called nutrient leaching, and in various forms, understanding and mitigating this effect is Migliaccio's role in south Florida's water crisis. Leaching occurs when water -- excessive irrigation is one example -- carries fertilizers or animal wastes through the soil or through runoff into local waters, so that it cannot serve its intended purpose. She describes a situation in which both urban and agricultural landscapes contribute large amounts of nutrients to local waters that cause shifts in the structure of natural communities. These nutrients can also cause algal blooms that result in oxygen depletion that reduces or kills aquatic life. Once aquatic life is reduced, the animals and birds that live off aquatic life also begin to decrease. This chain of depletion results in the reduction and sometimes the complete extermination of species, and local waters become fouled.
Migliaccio has tackled the problem from several angles. Part of the problem is related to water and how people irrigate. Another part relates to fertilizer with its issues of what kind and how much people use and helping them determine better application practices. There is an urban part to these problems and an agricultural part. There are aspects of individual action and environmental effect. Migilaccio's work with each of these angles and with many user groups has given her a broad understanding of the situation. She recognizes that people's lifestyles and livelihoods are at stake, and she sees her role as one of providing the very best science she can to balance the needs of all water users in south Florida.
Most recently, Migliaccio has been working to develop guidelines called Best Management Practices (BMP) that can help farmers use resources more wisely. BMPs are ways in which producers can alter their practices to reduce the pollutants they introduce into runoff or groundwater. These pollutants can be fertilizers, pesticides, or simply sediments. This approach to guiding producers in their decision-making has proven to be very effective.
For example, surveys show that most producers use too much water and fertilizer. The water that helps fertilizer wash into the soil is very often the same water that washes the fertilizer out of the crop's root zone and into groundwater and from there into local water bodies. Producers end up spending money on chemicals they derive no benefit from and may end up fertilizing everything but their crops. Also, agricultural producers use a lot of water, and it is a significant expense.
Migliaccio and her colleagues see a win-win scenario here. By helping producers implement BMPs, producers save money, protect the environment, and produce more crop for sale. When producers adopt the BMPs, their savings in water alone has been estimated between 70% and 90% in south Florida. When producers use less water, it means that they are paying less for water, and they are paying for less electricity to drive pumps and other components of their irrigation systems.
One example of these practices is switching from timed irrigation to sensor-driven irrigation. Timed irrigation delivers a certain amount of water for a certain amount of time regardless of plant, climate, or soil conditions. By contrast, sensors in the soil can tell when plants actually need water. In such a system, plants only receive the water they need when they need it. The plants do better and nutrients are more persistent and more effective.
The goal of BMPs is to reduce the pollutants that reach local waters, and the other side of this equation is actually measuring those pollutants. In this work, Migliaccio has both gone out into the field to collect samples and used data collected by other agencies to determine the extent of pollution in the canals and rivers of south Florida. This information is collected on a regular basis and compiled into large data sets that Migliaccio and her colleagues can examine using statistical techniques, first, to determine the levels of pollutants, and second, to track down their sources.
Working the problem from both directions has led to real progress in reducing the nutrient levels in south Florida waters. What Migliaccio sees so clearly that the individual producer, homeowner, or golf course manager might not see, is how the contributions of each individual add up and concentrate into a serious pollution problem in local waters.
In the case of specific agricultural producers, Migliaccio can examine their practices and determine how much that producer contributes to the problem. But a polluted stream cannot usually tell where its pollutants came from. Water that washes through urban and suburban landscapes picks up nutrients and other pollutants from many sources and combines them. The sources of these chemicals cannot be pinpointed. This is called non-point-source pollution, and it can be difficult to control. It requires educating neighborhoods and communities about better cultural practices.
As BMP programs are more widely adopted by producers, non-point-source pollution becomes a more important issue, and Migliaccio's work is moving in that direction. She says that most homeowners still use timed irrigation and do not know much about the options. Many homeowners might resist the expense of an upgraded irrigation system, but they should realize that they are likely to see savings in their water bills that will more than make up for the cost of a better system. Migliaccio has estimated that when homeowners adopt modest conservation practices, they can save 30% to 40% of the water they use. As fresh water supplies are becoming stretched, it is critical to conserve or save water; thus, conservation technologies and their application are critical to accomplish this goal and ensure drinkable water supplies for south Florida.
Solving the water problem in south Florida becomes more critical every day. The Biscayne Aquifer, which supplies much of the fresh water for the region, lies near the surface of the ground and is highly susceptible to pollution. The amount of water that can be withdrawn from this aquifer on a daily basis has reached its limits, and yet the area continues to grow. So Migliaccio's work in keeping south Florida's water sources clean and sufficient to meet user demands is becoming more important all the time.
Professor
Dr. Migliaccio specializes in monitoring and modeling of hydrology; water conservation; irrigation in agricultural and urban landscapes; BMPs
Research and Extension
Teaching
Education
Ph.D. Biological and Agricultural Engineering, University of Arkansas 2005
M.S. Biosystems and Agricultural Engineering, University of Kentucky 1999
B.S. Agricultural Engineering, Texas A & M University 1997
Professional Experience
2015-Present
Professor, Agricultural and Biological Engineering Department, UF/IFAS Tropical Research and Education Center (TREC)
2010-2015
Associate Professor, Agricultural and Biological Engineering Department, UF/IFAS Tropical Research and Education Center (TREC)
2005-2010
Assistant Professor, Agricultural and Biological Engineering Department, UF/IFAS TREC
2002-2005
Graduate Research Assistant, University of Arkansas
2000-2002
Engineer II, Arkansas Soil and Water Conservation Commission
1999-2000
Engineering consultant, Roy F. Weston, Inc. Houston, TX
Awards and Honors
Water Institute Faculty Fellow 2016

ASABE Certificate of Appreciation

2016
ASABE Blue Ribbon Award 2014
ASABE Florida Section Outstanding Young Engineer 2014
ASABE Young Extension Worker Award, 2012
ASABE Florida Section Outstanding Young Researcher 2011
UF/IFAS Richard Jones Outstanding New Faculty Research Award 2009
ASABE Florida Section Young Extension Worker 2009
ASABE Outstanding Reviewer 2008
Alpha Epsilon - Agricultural Engineering Honor Society
Gamma Sigma Delta - Agricultural Sciences Honor Society
Other Professional Activities
Member, ASABE Board of Trustees 2015-2018
American Society of Agricultural and Biological Engineers
Associate Editor for Transactions of ASABE and Applied Engineering in Agriculture