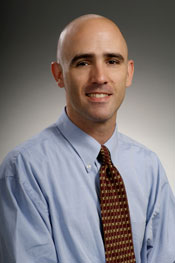 Christopher J. Martinez
E-mail | Web Site | Web Site (CLCE)
279 Frazier Rogers Hall
P.O. Box 110570
Gainesville, FL 32611-0570
(352) 392-1864 ext.279 fax: (352) 392-4092
Chris Martinez is one of ABE's newest faculty members, but he is already thoroughly "immersed" in his specialty -- water resources. Martinez joined the faculty in 2007 following a postdoctoral position in climate modeling with Dr. Jim Jones. Technically, his appointment is through the University of Florida's Center for Landscape Conservation and Ecology, and his focus is urban water resources. Martinez uses his position in the department and his role with the Center to take both a broad view and a narrow view of his subject.
Taking the broad view, Martinez works to understand how climate forecasting can benefit urban water management. He says that the National Oceanic and Atmospheric Administration (NOAA) began producing climate forecasts in 1995, and they had hoped that water managers would be early adopters of this information. Climate forecasting would appear to be useful to them, but how to work climate forecasts into their everyday practice has not been obvious. Water managers, who must predict water demand, water resources, and resource costs, all while staying within municipal budgets and regulatory restrictions, have tended to develop their own approaches, customized to local situations and based on local history and experience.
The numerous factors that water managers take into account must be handled through a decision-making process that involves managing large volumes of data. The trend in decision-making situations of this kind is to try to create mathematically based, computer-run procedures, usually called models, that analyze the data. Models can often be used to ask the question "what if", for example, how will regional budgets be affected if there is more rain than usual and more water can be drawn from the reservoir instead of pumping groundwater? This simple example indicates that models can link together many kinds of factors and produce numerical answers. Often, managers will run numerous scenarios through the models, and in the end, human judgements must be made about the best actions to take.
Currently, Martinez is engaged in a project with Tampa Bay Water, which manages water resources for three counties -- Hillsborough, Pasco, and Pinellas -- and three cities -- New Port Richey, St. Petersburg and Tampa. Tampa Bay Water was created as an independent management authority to resolve the so-called "water wars" in the Tampa Bay region. The many different governments in the area were drawing so much water in an overlapping way that water sources and the natural environment were adversely affected and in danger. The problem required a cooperative, regional solution and an independent authority that would manage the water and sell it to the local governments. Tampa Bay Water is a lesson in balancing Florida's large and growing population and its natural environment.
A first step has been taken in the effort to help integrate climate forecasting into Tampa Bay Water's management practices. Martinez is examining how climate forecasts correlate with urban water demand. A key challenge of water management comes during dry periods, when water resources begin to decrease and water demand begins to increase. Florida is challenged by dry periods on a regular basis. Serious droughts occur typically once a decade, and they have occurred more frequently in recent years. During these periods, homeowners and businesses use much more water for irrigation. As the Tampa Bay Water Web site states: "Most people have just one expectation when turning on the tap—water." Water managers must find a way to meet that expectation, and Martinez believes that climate forecasts can be an important aid in doing so.
In addition to the technical questions of using climate forecasting in water resource management, Martinez would also like to understand the barriers that keep water managers from including climate forecasts in their standard management approaches. Strictly speaking, this is not an engineering problem, but it demonstrates the growing need for engineers to go beyond technical issues in understanding and engaging their clients. Martinez' extensive background in water resource models and climate forecasting gives him great confidence in the potential for linking these approaches, but he recognizes the challenge that water managers face. If they make the wrong decisions, there are real consequences and real penalties. Water resources are vital to their communities, and they have to be managed for the long term. An application to study the attitudes and perceptions of water managers about climate forecasting is pending.
The "narrow" view fills out Martinez' program perfectly. As part of his work with the Center for Landscape Conservation and Ecology, Martinez conducts workshops that train building professionals how to plan, design, and build for more efficient use of resources. Martinez works the problem of urban water resources from both sides by dealing directly with the needs of water managers and the needs of water users.
The workshops are part of the Program for Resource Efficient Communities (PREC), a University of Florida program that focuses on bringing the university's many areas of expertise to bear on promoting "design, construction, and management practices that measurably reduce energy and water consumption and environmental degradation in new residential community developments." Since it was established in 1996, the PREC has reached thousands of building professionals with information about the latest in "green" construction. Martinez says that because these workshops offer continuing education credit, which applies to annual professional license renewals, the workshops attract a lot of engineers and landscape architects among others.
The training Martinez offers through this program helps building professionals understand the impact of their decisions on non-point source pollution, which basically means fertilizers and pesticides that are washed off residential and commercial properties by irrigation or rain. This runoff flows through groundwater or municipal stormwater systems and finds is way into local lakes and rivers. Many homeowners and professionals use too much chemical treatment, and they often irrigate more than necessary. This leads to two problems: contaminated runoff and overuse of water.
This brings Martinez full circle -- from the planning and design of Florida's homes to the water resources that will supply those homes.
Associate Professor
Dr. Martinez is a faculty member of the Center for Landscape Conservation and Ecology and specializes in urban water resources and nonpoint source pollution, watershed modeling, and the use of climate information in water resource, agricultural, and ecological management, planning, and decision making.
Research and Extension
Education
Ph.D. Environmental Engineering Sciences, University of Florida  2006
M.S. Environmental Engineering Sciences, University of Florida  2001
B.S. Environmental Studies, Richard Stockton College of New Jersey, 1996
Professional Experience
2013-Present
Associate Professor, UF Agricultural and Biological Engineering Department
2007-2013
Assistant Professor, UF Agricultural and Biological Engineering Department
2006-2007
Post-doctoral Research Associate, Agricultural and Biological Engineering Department, University of Florida
1998-2006
Graduate Instructor, Research Assistant, and Teaching Assistant, Department of Environmental Engineering Sciences, University of Florida
Awards and Honors
ASABE Florida Section Outstanding Service Award 2014
IFAS Early Seed Grant Award, 2013
2011 John and Martha Woeste Professional Development Award
United States Department of Agriculture National Needs Fellow (2002 – 2006)
Member, Chi Epsilon, Civil Engineering Honor Society
Other Professional Activities
Faculty advisor for the student chapter of the American Water Resources Association
American Society of Agricultural and Biological Engineers
American Water Resources Association
Society of Wetland Scientists