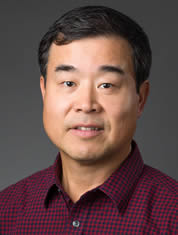 Wonsuk "Daniel" Lee
E-mail | Website
Department of Agricultural and Biological Engineering
207 Frazier Rogers Hall, PO Box 110570 Gainesville, FL 32611
352-392-1864 ext. 207
Dr. Lee is working on developing sensing systems for specialty crops for precision agriculture in Florida. His areas of specialization include: sensing systems, precision agriculture, farm automation, Global Positioning System (GPS), geographic information systems (GIS), near infrared spectroscopy (NIRS), image processing, machine vision, yield monitoring/mapping, variable rate fertilizer application, instrumentation, machinery, and agricultural mechanization. He draws from all these areas to develop solutions for a wide range of agricultural problems.
At the heart of Wonsuk "Daniel" Lee's expertise is the application of sensors, devices which "see" beyond the range of human senses and can deliver information to computers and other devices. Lee's skills also include a wide range of supporting technologies and novel applications, such as autonomous weed control systems, immature green citrus fruit detection, autonomous yield mapping for immature citrus fruit, apple Marssonina blotch (AMB) disease detection, citrus greening disease (Huanglongbing) detection, blueberry fruit detection for yield mapping, citrus black spot (CBS) disease detection, and strawberry flower detection for yield prediction.
Professor
Dr. Lee specializes in precision agriculture, GPS/GIS, variable rate fertilizer application, yield mapping, machine systems design, sensor development, instrumentation, machine vision/image processing, NIR spectroscopy, and farm automation.
Teaching
Research
Immature green citrus fruit detection from canopy images using various imaging platforms and methods including deep learning technique
Postharvest citrus fruit evaluation for packinghouses using machine vision and deep learning
Strawberry flower detection for early yield estimation using machine vision
Twospotted spider mites detection for strawberry and almonds using a smartphone
Education
Ph.D. Biological and Agricultural Engineering, University of California, Davis, 1998
M.S. Agricultural Engineering, Seoul National University, Suwon, Korea, 1988
B.S. Agricultural Engineering, Seoul National University, Suwon, Korea, 1986
Professional Experience
2013-Present Professor, Agricultural and Biological Engineering, University of Florida
2006-2013: Associate Professor, Agricultural and Biological Engineering, University of Florida
2000-2006: Assistant Professor, Agricultural and Biological Engineering, University of Florida
1998-2000: Postdoctoral Research Associate, Biological and Agricultural Engineering, Texas A&M University
Awards and Honors
UF Term Professorship Award, 2017-2019
UF Research Foundation Professorship Award, 2017-2020
Other Professional Activities
International Commission of Agricultural and Biosystems Engineering (CIGR). Member, 1994-present.
Society of Photo-Optical Instrumentation Engineers (SPIE). Member 2002-present. Senior member 2015-present.
North American Colleges and Teachers of Agriculture (NACTA). 2009-present.
Association for Unmanned Vehicle Systems International (AUVSI). 2014-present.
American Society of Agricultural and Biological Engineers (ASABE). Member 1994-present.
Florida State Horticultural Society (FSHS). Member 2006-present.
Florida Blueberry Growers Association (FBGA). 2009-present.
NCERA-180 Site-specific crop management: Member, 2006-present. Florida State Representative, 2009-present
W-2009 Integrated Systems Research and Development in Automation. Member, 2008-present.
Associate Editor since 2008 for the Transactions of the ASABE, and Applied Engineering in Agriculture
Editorial Board Member since 2011 for the Journal of Biosystems Engineering.
Editorial Board Member since 2014 for the Information Processing in Agriculture (IPA) journal.
Member of the Editorial Board of the Journal of Wisdom Science and Technology (WST), Apr. 2016 – present.