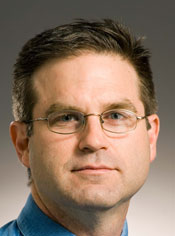 Greg Kiker
E-mail |
Department of Agricultural and Biological Engineering
291 Frazier Rogers Hall, PO Box 110570 Gainesville, FL 32611
352-392-1864 ext. 291
The focus of Greg Kiker's career is the ecological modeling and management of natural systems. He has studied management of elephants in South Africa's Kruger National Park and water distribution on the Hillsborough River in Tampa, Florida. These may seem like unrelated problems, but they have a lot in common. In both cases, and many others that Kiker works on, the problem centers on management of a natural resources.
Management means making decisions, acting on those decisions, and achieving results. Kiker is interested in every aspect of this process. He collects and analyzes data from natural systems. He develops options for decision-makers and explains the consequences. He has studied the decision-making process itself extensively. As a final touch, he studies the uncertainty in every stage of the process, beginning with the accuracy of the original data.
Kiker is especially interested in so-called "wicked problems." First identified in the late 1960s, wicked problems have many factors and high-stakes solutions, full of economic and political implications --- often with time limits. Many of them are now famous, such as global climate change and the American healthcare debate. Balancing human populations and natural ecosystems often creates wicked problems. Over the years, Kiker has developed the skills and analytical tools to tackle tough problems as the scale and complexity of his projects has steadily grown.
It all began in Africa, on the eve of going to Cornell to start a PhD program, Kiker was offered a Fulbright scholarship to work on climate change modeling for food production in South Africa. Upon returning to Cornell, he wanted to stay involved in southern Africa. His next research location was the Kruger National Park. He stayed for 8 more years. His research in Kruger provided a turning point for Kiker. While he was there, he completed his doctorate and developed a deep appreciation of the place.
And he learned a lot about elephants. As the world's largest land animals and possessing remarkable intelligence, elephants have a special place in the world's imagination. Often described as majestic, wise, and caring, elephants can be a challenge to live with, and the people who do have a complex view of the animals. It's one thing to watch elephants on Animal Planet, and quite another to wake up with a herd of them in your backyard.
Kruger National Park managers must confront daily the numerous issues facing their elephants, while thinking ahead to upcoming seasons. To help park managers, Kiker developed a computer program called QnD:EleSim, which stands for Questions and Decisions -- Elephant Simulation. Kiker used this computer software to develop a model of the Kruger National Park, creating a game that managers can play. Despite the word "game", the inner workings of QnD:EleSim are very sophisticated and give managers a user-friendly way of manipulating a great deal of data with very advanced simulation and decision tools. Kiker has described the QnD system as a way to "provide an effective and efficient tool to integrate ecosystem, management, economics, and sociopolitical factors into a user-friendly game/model framework." This description demonstrates Kiker's goal of going beyond his scientific understanding of how ecosystems work to place them in the real-world contexts that their managers face, which always includes questions like "How much will this cost?" and "How will people react to this decision?"
QnD:EleSim allows managers to gain an overall understanding of the relationship between elephant populations and available resources. "Experience" can be gained quickly by setting up conditions for the game and watching events unfold in minutes on a computer screen that might take months or years in the real world. Simulations and computer models help to point managers in the right direction. With these tools, they can develop options and outcomes from which policy-makers and elected officials can choose. Computer models of this kind can foster meaningful discussions with a sound, scientific basis.
The elephants of Kruger National Park may be one of Kiker's more colorful projects, but he has applied his expertise a lot closer to home. These projects have ranged from the effect of sea level rise on communities of endangered shore birds to multistate water issues. He has worked on one of the trickiest problems in the Southeastern US, the battle between Florida and Georgia over the management of the Apalachicola-Chatahoochee-Flint Rivers (ACF), which supplies water in northwestern Florida and is critical to the Florida oyster industry in Apalachicola Bay. He has also worked on water management in southwest Florida that affects both the Everglades and Florida's extensive cattle industry. Kiker has worked with several other ABE faculty to develop management strategies for Tampa Bay Water, the authority that grew out of the Florida West Coast's own water wars.
To each of these, Kiker has brought the full range of his understanding of problems -- wicked and otherwise. Water-related issues are slow moving crises. They develop over a long period of time and provoke lengthy discussions and negotiations. In the meantime, the situation continues to change, often for the worse. This is the kind of challenge Kiker wants to help manage. He describes a process of adaptive management based on improving the communication between all parties involved and increasing their understanding of what drives the problem. In that environment, managers, policy makers, and the general public are more prepared to identify and arrive at consensus. The solution everyone agrees to try may not be perfect, but it may be perfect for its time.
Kiker suggests that making our solutions more perfect sometimes means waiting until we have better information and better ways of building consensus. He says that better solutions often depend on knowing how smart we will be in the future, and that can be difficult to model.
Associate Professor
Dr Kiker is the ABE Graduate Coordinator. He specializes in the integration of ecological, hydrological & decision modeling; environmental risk & decision analysis & model linkage/integration for decision support.
Teaching
AOM 4643/6932 Principles and Issues in Environmental Hydrology - An introduction to hydrology and water resources in Florida for non-engineers.
ABE 5643c Biological Systems Simulation – An introduction to concepts, methods and tools for biological and ecological process modeling.
Research
Ecosystem and Hydrological Modeling for South Florida and Southern African Ecosystems
Simulation of Beef Cattle Farming Systems for Ecological and Enterprise Sustainability
Food/Ecology/Marine System Integration into Decision Support and Scenario Analysis Systems for the Caribbean Region
Adaptive Management Tools for Making Decisions with Uncertain Information
Decision Support and Analysis for Sediment/Dredging Management and Ecosystem Restoration
Education
Ph.D. Agricultural and Biological Engineering, Cornell University 1998
M.S. Agricultural and Biological Engineering, University of Florida 1992
B.S. Agricultural and Biological Engineering, University of Florida 1990
Professional Experience
2014-Present
Associate Professor and Graduate Coordinator, Agricultural and Biological Engineering Department, University of Florida
2011-2014
Associate Professor, Agricultural and Biological Engineering Department, University of Florida
2005-2011
Assistant Professor, Agricultural and Biological Engineering Department, University of Florida
2002-2005: Research Physical Scientist –U.S. Army Corps of Engineers - Engineer Research and Development Center – Environmental Laboratory, Waterways Experiment Station, Vicksburg, MS
1998-2002: Senior Lecturer - University of KwaZulu-Natal, School of Bioresources Engineering and Environmental Hydrology, Pietermaritzburg, South Africa
Awards and Honors
ISFS Fellow 2017
UF/IFAS International Achievement Award 2011
IFAS Junior International Education Award 2009
Best Paper, Integrated Category, Journal Human and Ecological Risk Assessment (HERA) 2008
UF Int'l Center 'Internationalizing the Curriculum' award, 2006
Fulbright Scholar (1992-1993), U.S. Department of State, Climate Change Research in South Africa
The Land Fellowship Program (1990 – 1991), The Land, EPCOT Center, Walt Disney World Co.
Robert E. Stewart Engineering-Humanities Award (1988), American Society of Agricultural Engineers
Other Professional Activities
American Society of Agricultural & Biological Engineers
Society for Risk Analysis
Ecological Society of America