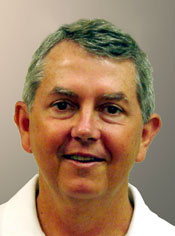 Pierce H. Jones
E-mail |
2295 Mowry Road
PO Box 110940
Gainesville, FL 32611
Phone: (352) 392-8074 Fax: (352) 392-9033
Pierce Jones is a professor in Agricultural and Biological Engineering and director of the Program for Resource Efficient Communities (PREC). The highly successful program that Jones and his team have created is geared to make Florida "greener" -- literally from the ground up -- by influencing developers to adopt more resource-efficient building practices. Jones and the PREC have worked with some significant developments in Florida and established a training program to inform developers and built environment professionals about current best design, construction and management practices to conserve resources in all phases of development from  planning thru final build-out.
He earned a bachelor degree in agricultural economics at UF, and moved to Tennessee. There, he farmed and worked in construction, gaining practical knowledge and a first-hand appreciation of economics. He returned to Florida a few years later and completed a degree in astronomy. What might seem like a digression gave Jones the math and physics foundation he needed for the next stage in his education, and he went on to a doctoral program in agricultural engineering, earning a PhD in mechanical engineering. Jones was in the right place at the right time when he graduated because a position on the agricultural engineering faculty became available, and he was hired.
In 1995, Jones was asked to lead the Energy Extension Program. This program was an outgrowth of the energy crisis and awareness of the 1970s, and its goal was not to fund individual projects but to create state programs in energy conservation. Many of the programs produced information and training materials directed toward weatherproofing and other retrofits that could make buildings more energy efficient. By the mid 1990s, federal support for these programs was tapering off, leaving state programs to survive on their own through a combination of local and state support. Jones saw an opportunity and sought permission to develop a program which could make its own money by charging for its training and other educational materials.
Jones credits the success of the program to several factors. One of these was the decision to take educational programs to local audiences. This established an active outreach platform and gave the program access to audiences that might never have been able to come to Gainesville for training at the University. Two foundational educational projects, Build Green and Profit (a continuing education program first presented in 1996) and Energy Efficient Building Construction in Florida (a reference guide for building contractors first published in 1999 and regularly updated ), have grossed the program over $1 million. The combination of effective, relevant publications and training events spread the reputation of the program statewide. Jones describes the working principle behind his program as "funneling the best thinking from UF to the developer community."
Residential construction is one of Florida's largest industries. From 1985 to 1995, housing starts in Florida had been relatively stable, ranging between 6,000 and 10,000 units per month. This number began to increase in the mid 1990s and continued to rise steadily to a high of 20,000 housing starts in August 2005. This created a growth environment for Energy Extension. With many new housing developments being planned and new houses being built, the need for information and training about resource-efficient construction was significant. Jones and his team found a receptive audience among builders. This in turn connected them with developers, then civil engineers, landscape architects, attorneys, and other professionals connected with development that were hoping to give their planning and construction efforts a competitive advantage. The Energy Extension Service evolved continuously in its scope and reach throughout the late 1990s and early 2000s, and in 2004, the program was officially re-launched as the Program for Resource Efficient Communities.
The advantages of resource-efficient planning and construction are many. Jones explains that in the early stages of the building process, beginning with design and proceeding through permitting, developers must jump many hurdles before physical work on their project can begin. City planners, state regulators, environmentalists -- many kinds of stakeholders -- have input on new developments, all before a single house has been built. Well designed developments that take into account the latest in resource-efficient planning are appealing to regulatory agencies and concerned citizen groups because they promise a higher quality of life and responsible use of resources and the environment. Many areas of Florida are becoming crowded with development, and the qualities that people move to the state to enjoy -- such as beautiful landscapes, access to unspoiled nature, and outstanding beaches, as well as the resources that will support their lives -- such as clean water, clean air, and effective infrastructure -- must be protected.
Jones and PREC work at several levels to persuade developers to take a resource-efficient approach. Jones says that one reason they don't is that many times, developers already have a way of building a development and simply do not know another way. PREC's portfolio, including work with some notable clients such as the Disney development Celebration, has created a network through which developers become aware of PREC's services and get the planning input they need. Jones describes one particular development that was laid out like many sprawling, car-dependent golf communities in Florida. Then PREC joined the planning process, and helped facilitate the design of a compact, mixed-use and accessible community with over 70% of the project's land area going into a conservation easement.  The new plan included transportation that would make it possible for many residents to go about their daily business without using a car. The developer saved over $135 million in road construction costs alone. All powerful arguments for the benefits that resource efficient planning can offer.
Despite the sharp decline in Florida's construction sector in recent years, PREC continues to work with projects that are in the design phase. Jones describes the model that PREC uses for its operation as a dynamic one that is able to respond to the needs and demands of industry. He says that PREC operates "light on its feet" by shifting its emphasis and looking for new opportunities for its capabilities. These days, in addition to their large-scale planning efforts, they are also promoting weatherization for Florida's millions of aging homes as well as hurricane preparedness, messages which are always needed in Florida.
Professor
Dr. Jones is the director of Program for Resource Efficient Communities.  He provides leadership for the development and delivery of educational programs and products related to energy and sustainable community development with emphasis on housing (e.g., energy efficient mortgages, continuing education for builders, architects and real estate licensees, termites, windstorm mitigation, resource efficient landscaping, indoor air quality, etc.)
Extension
Dr. Jones works closely with Extension Specialists through State Major Program Design Teams and other organization units to encourage progressive and timely delivery of research-based information to various user groups.
Education
Ph.D. Mechanical Engineering, UF 1981
M.A. Astronomy, University of South Fla., 1976
B.S. Agricultural Economics, University of Florida, 1968
Professional Experience
1996-Present: Professor, UF ABE. Assistant Director Energy Programs (1997-Present)
1991-1996: Associate Professor, UF ABE
1985-1991: Assistant Professor, UF ABE
1982-1985: Assistant Research Scientist, UF Agricultural & Biological Engineering
Awards and Honors
1994 Davis Productivity Award – CD Rom Development Group
Other Professional Activities
American Society of Agricultural & Biological Engineers