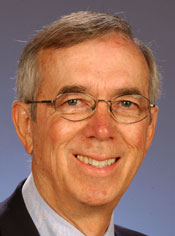 James W. Jones
E-mail | Web Site
289 Frazier Rogers Hall
P.O. Box 110570
Gainesville, FL 32611-0570
(352) 392-1864 ext.289 fax: (352) 392-4092
James Jones is the Director of the Florida Climate Institute. Dr. Jones is a Distinguished Service Professor Emeritus in the Agricultural and Biological Engineering Department, retiring from the department in 2010. He has built a remarkable career based on using computer simulation to integrate scientific knowledge for use in agricultural decision-making. His work has been acknowledged through his advanced rank at the university, through numerous awards and honors, and through the careers of many scientists he has trained. Dr. Jones was elected to the National Academy of Engineering in 2012.
Computer simulations are mathematical models of real-world situations. The ability of computer models to predict real-world outcomes has made them central to many fields of study. Mathematical equations and numerical methods are used to combine scientific knowledge and historical data about a subject of interest. In Jones' case, that subject was cropping systems. These simulations can then be used to predict what might happen under selected weather, soil, and management conditions.
Jones started his career at a time when computers were making it possible to bring together complex systems of equations and large amounts of data. Many workers were producing models, but often the models had a narrow research focus. Jones saw that the ability of crop models to take into account many variables and to play out many scenarios could be extremely useful to agricultural producers and to policy makers. He sought to create a computer-based application that would allow people outside of research labs to use crop models, produce meaningful results, and interpret those results. Jones took models for several crops that used different terms and methods and reworked them so that they could all fit into a unified modeling scheme, effectively creating a standard framework for additional crops. He also added more components to the models, including soil fertility and pest management. This modular approach made it was simpler to extend the model to more crops and to more complex scenarios.
The "model," which was actually a collection of integrated models, was known as the Decision Support System for Agrotechnology Transfer, or DSSAT, and it has been continually improved and published for over 25 years. The technology transfer part of the name refers to the idea that agricultural technologies can be tested in the computer to reduce the number of field experiments needed before a producer makes a commitment to them. The effect of this has been to promote modern agricultural technology and management techniques and to increase food and fiber production in many regions of the world. Jones' expertise has taken him to many countries to educate and advise, leaving behind valuable tools that local authorities and producers can use.
Jones' ingenuity and practicality with models is one of his strengths, but another has been his emphasis on developing collaborations. This approach has strengthened the work in his field and led to a rich network of colleagues around the world, many of whom continue to collaborate with him on projects to this day. The list of these collaborators would be a Who's Who of agricultural systems analysis, crop growth simulation, and computer applications in agriculture.
Of course, agriculture is not conducted in laboratories or under ideal conditions, and one of the most devilish variables for any agricultural operation is weather. Jones' interest in incorporating weather as explicitly as possible goes back to the early days of DSSAT's development, and during the years since, he has watched as weather and climate prediction have matured considerably.
In the late 1990s, Jones became interested in developing a suite of applied models that would bring advances in climate prediction to agricultural producers. He could see the rapidly evolving Internet as the delivery tool, and he began working with partners in other universities, collaborating to create a statewide, and then regional, network for delivery of this information. What came out of this effort was the Southeast Climate Consortium, which has grown to include research and extension workers from eight universities in five southeastern states.
Southeast Climate Consortium (SECC) defines its mission in terms of providing "scientifically sound information and decision support tools for agricultural ecosystems, forests and other terrestrial ecosystems, and coastal ecosystems of the Southeastern USA." These words demonstrate the breadth of Jones' vision of creating a framework that allows information tools to be brought together and used to serve the needs of a large community of related users. The tools are delivered through AgroClimate (www.Agroclimate.org), a Web site where extension agents and agricultural producers can access and use the expanding collection of climate-based applications.
AgroClimate is supported by a team of scientists and educators who train producers how climate and decision support tools can benefit their operations. At the same time, the AgroClimate team learns from the producers and develops new tools and new approaches that meet their needs.
The SECC is a model organization, and it has been very successful. Jones has extended this idea and collaborated with climate scientists at the Florida State University to create a new climate research networking organization called the Florida Climate Institute (FCI). While SECC is precisely focused on delivering the latest in climate and crop science to Southeastern producers, the FCI has a broader scope and a broader reach. The goal of the FCI is to address the full range of impacts of climate variability and climate change. FCI will act as a networking and information hub aimed at fostering collaborations to address the many issues associated with climate variability, climate change, and sea level rise, and promoting awareness of research opportunities. The FCI has attracted affiliates from fields as diverse as climatology and sociology, law, engineering, public health, agriculture and religion.
Jones is planning to retire in early 2011, but that will not end his involvement. He will continue to work part time to guide the SECC and FCI during the next few years and remain active in the crop simulation community. His vision and management skills will be called upon as the organizations he helped create continue to grow and address the needs of new generations of agricultural producers.
Director, Florida Climate Institute
Dr. Jones specializes in agricultural production systems analysis, simulation, crop and soil modeling, environmental effects on crop growth and yield and computer applications in agriculture.
Research and Extension
Global Crop Modeling Project – Development and application of crop and soil models for predicting cropping system responses to climate variability and climate change and evaluating mgmt. options for adapting to and mitigating climate change.
Southeast Climate Consortium – a NOAA Regional Integrated Science Assessment Center for the SE USA.
Decision Support System for Reducing Agricultural Risks Caused by Climate Variability –a USDA-NIFA project to determine climate-related risks to agricultural systems in the SE USA and develops forecasts of drought, yield, and other variables to help farmers reduce risks to climate variability.
Climate Risk Management and Decision Support System –USDA-RMA project emphasizing the development and implementation of a climate information and decision support system for use by the Cooperative Extension Services in the SE USA
Education
Ph.D.,North Carolina State University, Biological and Agricultural Engineering 1975
M.S., Mississippi State University, Agricultural and Biological Engineering 1970
B.S., Texas Tech. University, Agricultural Engineering 1967
Professional Experience
2010-Present: Director, Florida Climate Institute, a joint institute of the University of Florida and Florida State University
1998-2011: Distinguished Professor, UF Agricultural and Biological Engineering Department, Tenured.
1981-1998: Professor, UF ABE
1977-1981: Associate Professor, Agricultural Engineering Department, University of Florida. Tenure Accruing.
1973-1977: Research Engineer, USDA-ARS, and Assistant Professor, Agricultural and Biological Engineering Department, Mississippi State University (non-tenure accruing).
1971-1973: Research Engineer and Graduate Research Associate, USDA-ARS, North Carolina State University, Raleigh, NC
1967-1971: Research Engineer, USDA-ARS. Mississippi State University, Starkville, MS
Awards and Honors
American Society of Agronomy Presidential Award 2015
Fellow, AAAS 2012
Elected to the National Academy of Engineering (NAE) 2012
John Deere Gold Medal Award , 2012
Outstanding Alumus Award, NCSU College of Ag and Life Sciences, 2011
Malone International Award, 2006
Fellow, Soil Science Society of America, 2006
Kashida International Award, 2005
IFAS International Fellow, 2005
CALS Doctoral Advising/Mentoring, 2005
UF Research Foundation Professor Award (2004-2007)
Distinguished Alumni Fellow, Bagley Engineering School, MSU, 2003
ASAE Florida Section Member Award, 2002
International Research Award, Gamma Sigma Delta-Florida Chapter, 2000
Fellow of American Society of Agronomy, 1999
Professor Excellence Program award, University of Florida, 1997
OICD Fellowship – Colombia, 1993
Fellow of the ASAE, 1990
OICD Fellowship – France, 1989
Other Professional Activities
American Society of Agricultural & Biological Engineers
American Society of Agronomy
Crop Science Society of America
Phi Kappa Phi Tau Beta Pi
Alpha Epsilon
Gamma Sigma Delta