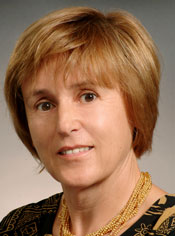 Dorota Haman
E-mail |
Department of Agricultural and Biological Engineering
120 Frazier Rogers Hall
PO Box 110570
Gainesville, FL 32611
352-392-1864 ext. 120 Fax 352-392-4092

Dorota Haman is chair of UF's Agricultural and Biological Engineering department. As a professor in the department, she specializes in plant-water relationships and irrigation water management. Her profession fulfills a childhood ambition -- as a child she wanted to be a gardener, and to this day, she maintains a large and productive garden. Of course, Haman's career goes well beyond her own backyard. She has developed and taught irrigation strategies in Central and South America, Africa and Asia, and right here in Florida.
A Career in Irrigation
Louis Pasteur said, "Chance favors the prepared mind." This maxim certainly applies to Haman's career, which evolved through a series of serendipities. She took an undergraduate math degree, which she brought to the University of Michigan to study the application of computers in agriculture. There, she worked on a project in plant-water relationships. That introduced her to agricultural engineering, which brought together her interests in plants and mathematics and offered the possibility of making a difference in the world.
Haman's focus since then has been the application of irrigation technology. At first glance, irrigation is a straightforward engineering problem of pumping water and building systems to deliver it in the right amout and at the right time. That in itself is a complex subject, and solving that problem has made a decisive difference in meeting the food needs of many regions. However, in too many situations, irrigation infrastructure has been developed without insight into other water needs, the availability of water, and the ability of nature to recharge water resources. Irrigation technology must be balanced with a comprehensive water management approach. Because it involves a critical resource like water, irrigation has sociological and political dimensions. Haman's research and training efforts over the past 25 years have emphasized understanding local situations in detail so that irrigation systems do not solve one problem while causing others.
Haman has worked on irrigation and water resources management in a wide variety of contexts and often in developing nations. This work has contributed to a global perspective which she says stems from many experiences, including her upbringing in Poland, summers spent in France, her life in the U.S., and a sabbatical in Mexico and Chile, among others. She believes deeply in the insight gained through opportunities to work in other countries and other cultures. As chair, Haman wants ABE graduate students, and whenever possible undergraduates, to have such opportunities, and she is committed to internationalizing the curriculum wherever possible.
Becoming Department Chair
Haman's promotion to chair of the department was the result of another set of unexpected opportunities. Being a chair had never been an ambition, but she had a chance to participate in the Lead 21 national land-grant leadership project. As part of the project's one-year curriculum, she was paired with the UF/IFAS dean for research. She spent most of that year shadowing the dean, attending meetings with the many constituencies that IFAS responds to, watching the process of guiding the college's mission up close, and gaining an appreciation for how it all works together. The vision she gained of how to direct a large enterprise ignited a passion for guiding the ABE department.
After three years as chair, she still loves the work, but she is honest about the many challenges that running a department presents. This is especially true at a time when many transitions are taking place in the department, the university, and the profession.
First and most basically, the university and the department are facing a period of financial challenges and overhauls, and it has been her job to guide the department through rough economic times. Second, UF itself is undergoing fundamental changes as it continues to evolve as a major research institution with all that implies for how the work of the university is done at every level. Thirdly, the profession itself continues to evolve. Having adopted "biological" as part of its name and its mission, agricultural engineering continues to move further away from a focus on engineering for crop production to embrace a range of engineering aspects of various life sciences. In this regard, Haman continues the work of previous chairs in helping the department achieve a common focus, identity, and purpose under the pressure of continuing diversification. The diversity of research interests in the department has been a challenge, but it is also a strength which promotes many cross-disciplinary dialogues. UF's ABE is highly ranked nationally because this diversity has been harnessed.
Fourthly, the department is undergoing a personnel change, as many professors with 20, 30, or 40 years in the department have retired in recent years, and the number of professors who are just starting out is at an all-time high. One of Haman's goals as chair is to find more effective ways of helping these young faculty members as they face the challenge of building their careers while meeting the professional and administrative demands of the university.
Continuing Research
Although her work as chair of the department has reduced Haman's time for research, she has maintained connections with several projects, most notably an irrigation project in the Wargal watershed in the southeastern Indian state of Andhra Pradesh. She is assisted in the project by a PhD student, Daniel Dourte, and the two of them have been to the area several times to work with local farmers and to understand their situation.
The project illustrates perfectly Haman's approach to her subject. It began as a study of how to manage irrigation water in the face of decreasing groundwater, thus putting irrigation and other water uses in competition. The dropping water table is likely the result of changing climate patterns in the area. Rain totals had not changed much, but rain was arriving in fewer high intensity events instead of the more frequent, low intensity events that the area had been accustomed to. Low intensity rain allowed water to soak in over a period of hours or days, which allowed plants to use the rainwater more effectively. Also, more rain was stored as groundwater, and it could be pumped out as needed to apply to crops. By contrast, during high intensity events, rain comes down very quickly and much water leaves as runoff rather than soaking into the ground. Haman and her student began looking at a variety of strategies to help capture rain during high intensity events, such as changes to tillage practices and creating local catchments to capture runoff and allow it to percolate down into the ground.
There was another dimension to the problem. Even with an engineering solution to address the immediate issue, the challenge of managing the water to meet the full range of local water needs had to be met. This implies engaging social and political processes because water is usually a community-wide challenge with community-based solutions. Local farmers and authorities must participate in a series of consensus processes in which they agree on the range of problems, prioritize these problems, and then work to design and implement solutions.
One aspect of the consensus process is that in many traditional rural communities, men and women adopt distinctive social roles and different work. Haman wondered how these differing roles affected men's and women's perceptions of the groundwater issues, their decision making processes, and their priorities for responsive solutions. This aspect of rural water management had been only rarely explored despite how common this social pattern is. The UF research team is working on evaluating the need of including these differences in modeling tools used for studying the water table changes in the area.

Haman's interest in gender roles reflects her own experience -- she was the first woman engineer hired in Agricultural and Biological Engineering at the University of Florida when she arrived in 1985. Today, about 20% of the professors in ABE are female. This is similar to the number of women graduates in engineering, which is between 20% and 25%, but it runs well ahead of the percentage of women engineers in the work force, which is around 10%. Haman, along with two other ABE professors and a number of other women engineers from around the nation, has played a special role in promoting the profession to women when she was selected by the Extraordinary Women Engineers Project to appear in their book and outreach campaign in 2006 entitled "Changing Our World."
Professor and Chair
Dr. Haman specializes in irrigation water management, plant water requirements and irrigation efficiency. In addition to her research she has an interest in irrigation technology for developing countries and has been developing and teaching irrigation courses in South and Central Americas and in Africa.
Research and Extension
Evaluation and demonstration of water conservation/irrigation systems in containerized production of ornamental plants, including newly developed Multipot Box System and outdoor ebb and flow system. These systems are monitored for water use and environmental impact due to the runoff from the nurseries.
Development of crop coefficients for specialty crops in Florida such as blueberries. She has been looking at the development of best management practices (BMPs) including appropriate application of water and nutrients for blueberry production.
Extension program focuses on efficient water management in irrigation of various crops. Developed a set of educational materials and programs to teach growers how to use irrigation systems to protect plants against frost and freeze events in Florida.
Education
Ph.D Agricultural Engineering, Michigan State University, 1983
M.S. Agricultural Engineering, Michigan State University, 1980
B.S. Mathematics, University of Warsaw, Poland, 1973
Professional Experience
2007-Present:
Professor and Chair, UF Agricultural and Biological Engineering
2006-2007:
Professor and Graduate Coordinator, UF Agricultural and Biological Engineering
1998-2006:
Professor, UF Agricultural & Biological Engineering
1990-1998:
Associate Professor, UF Agricultural & Biological Engineering.
1985-1990:
Assistant Professor, UF Agricultural & Biological Engineering
1983-1984:
Instructor, Department of Agricultural Engineering, Michigan State University (MSU)
1977-1983:
Graduate Research and Teaching Assistant, Department of Agricultural Engineering and Department of Mathematics, MSU.
Awards and Honors
ASABE Fellow 2014
Gamma Sigma Delta Distinguished Leadership Award of Merit 2012
Distinguished Alumni Award – Dept. of Biosystems & Ag Engineering, Michigan State Univ. , 2010
Art Hornsby Distinguished Extension Award, 2004
Alpha Epsilon (Agricultural Engineering Honorary)
Gamma Delta Sigma (Agricultural Honor Society) /li>
Other Professional Activities
United States Committee on Irrigation and Drainage
American Society of Agricultural & Biological Engineers
Environmental and Water Resources Institute
Florida Irrigation Society