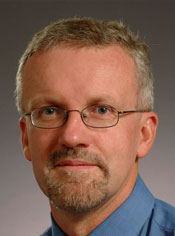 Clyde Fraisse
E-mail | Web Site
Department of Agricultural and Biological Engineering
239 Frazier Rogers Hall , PO Box 110570 Gainesville, FL 32611
352-392-1864 ext. 271
Clyde Fraisse is helping Florida's agricultural producers use climate information to reduce risks and increase profits. There is already a lot of discussion about this topic among individuals, in the press, and on television. What Fraisse wants to explain is that there are some things we really do understand about climate, and agricultural producers can use that knowledge to make better decisions about their operations. Fraisse isn't focused on "global warming" or "global climate change." What he is focused on is how the latest climate science can benefit agricultural producers in the southeastern United States.
Fraisse often begins by explaining the difference between climate and weather. Basically, it's the difference between a snapshot and a movie. Weather refers to conditions of temperature and precipitation at a specific time in a specific location. Climate is the trend in weather over a longer period of time, such as a season or a year. Climate scientists often study even broader trends lasting decades or longer, and that's where the scientists sometimes get involved with controversy given the uncertainty of long-term climate projections.
At the core of Fraisse's climate work is the now familiar El Niño-Southern Oscillation phenomenon (ENSO). Specifically, El Niño is the warming of a region of the equatorial Pacific Ocean off the west Coast of South America. The water temperature across that region has been monitored for many years. In years when the temperature is higher than normal, an El Niño condition occurs. There are also years when the temperature is lower than normal, and this is called a La Niña condition. Then there are so-called "neutral" years when the temperature is within the normal range.
It has been known for many years that ENSO has a definable influence on the climate in the southeastern United States. This effect has been studied extensively, and it is now possible to offer agricultural producers valuable information about what they can expect in the months most affected by ENSO. Fraisse cooperates with climate and agricultural scientists of the Southeast Climate Consortium (SECC) to transfer knowledge and increase the climate literacy of agricultural producers in the region. The SECC is a consortium of eight southeastern universities that cooperate to advance the climate sciences and develop decision support tools based on the latest climate science. These tools are accessible to general public through the Agroclimate.org Web site.
Fraisse travels extensively conducting workshops and training sessions to explain to agricultural producers across the Southeast how the climate information and tools they will find on Agroclimate.org can benefit them, how they can use these tools to understand climate trends for the coming few months, and use this information to make decisions about the timing and nature of their operations. In some cases, producers may be able to decide what crop will best tolerate a season influenced by El Niño, which tends to be wetter than La Niña years.
Fraisse often works with specific commodity groups, such as strawberry, cotton, or corn producers, to help them understand the wealth of historical information the SECC has compiled about optimum planting schedules and other aspects of growing specific crops. Fraisse is also on the front line of finding out what kind of information these producers need from climate scientists. He also wants to know how the producers would like to receive the information. They can always access the Agroclimate Web site, but many producers are excited about a new program, which can deliver alerts directly to their cell phones.
Because ENSO relates to temperature and moisture, it has implications for plant diseases. Many plant diseases thrive when there is more moisture, so during an El Niño year, winter crops in the southeast U.S. can be more susceptible to disease. Treatments for these diseases can be expensive, and the timing of the treatments is critical.
Fraisse has been cooperating with plant pathologists to understand the decision-making process of strawberry growers when they are confronted with diseases such as anthracnose and botrytis. He developed a new, web-based tool to help growers to time their fungicide applications. The web decision support system can be accessed at http://agroclimate.org/tools/strawberry/. The system gives information on the current risk level for the two most important fruit rot diseases in Florida, Botrytis (or gray mold) and anthracnose, and makes recommendations on the timing of fungicide applications for control of those diseases.  Growers can answer a simple series of questions about treatments they have already applied and the developmental stage of their crop. They will then be given spray recommendations and a list of possible products. This tool has the potential to save millions of dollars to Florida strawberry growers during La Niña years when conditions are dry and less favorable to fungal disease development.
Fraisse sees great potential for the Agroclimate system, with its ability to integrate real time weather data, historical data, and grower expertise. In addition to the numerous tools already offered, new ones are under development, including tools for drought forecasting and for estimating carbon footprint of agricultural commodities. Fraisse has not lost sight of the bigger picture either. Whatever the reasons, global climate is changing. Fraisse and the SECC would like to understand the longer range implications of climate change for Florida's producers.
Those questions are harder to answer, but when good science and good results are available, Fraisse will work to make them understandable and practical for Florida producers.
Associate Professor
Dr. Fraisse specializes in the development of climate risk mitigation tools for agricultural and natural resources managers. His expertise includes agroclimatology; soil and water engineering.
Research & Extension
Dr. Fraisse's research and extension outreach programs focus on the development of decision aid tools, methods and data products for translating climatology and climate forecasts into information required to support agricultural and natural resources management decision making.
As a member of the Southeast Climate Consortium (SECC), Dr. Fraisse has been responsible for developing web-based climate information systems customized to the agricultural industry (http://www.agroclimate.org).
Education
Ph.D. Colorado State University. Department of Agricultural and Chemical Engineering, 1994
M.Sc. Katholieke Universiteit Leuven, Leuven, Belgium.  Department of Agricultural Engineering, 1988
B.S.Universidade Federal do Paraná, Curitiba, Brazil. Dual degree in Civil Engineering and Cartography, 1982
Professional Experience
2012-Present
Associate Professor University of Florida, Department of Agricultural & Biological Engineering
2003-2012
Assistant Professor University of Florida, Department of Agricultural & Biological Engineering
2002 – 2003
Assistant Professor Washington State University, Biological Systems Engineering Department
1998 - 2002
Senior Research Scientist, Cargill, Inc. Minneapolis, MN
1997-1998
Agricultural Engineer USDA - Agricultural Research Service, Cropping Systems and Water Quality Research Unit, Columbia, MO
Awards and Honors
Florida Climate Institute Faculty Fellow 2015
ASABE Blue Ribbon Award 2014
IFAS/UF International Achievement Award 2012
Florida Section ASABE Outstanding Extension Worker 2011
Sigma Xi, The Scientific Research Society
Gamma Sigma Delta, The Honor Society in Agriculture
ASAE Honorable Mention Paper Award, July 2000
USDA Certificate of Merit: Significant Contributions to the CSWQRU Precision Agriculture Research Program, 1998 and 2001
Great Distinction, MS program at the KU Leuven, 1988
Belgium Government Scholarship, 1986
Other Professional Activities
American Society of Agricultural and Biological Engineers
American Society of Agronomy
Soil and Crop Science Society of Florida
Brazilian Society of Agrometeorology