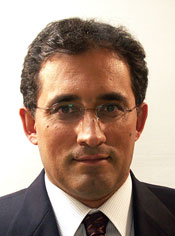 Reza Ehsani
E-mail | Web Site
Citrus Research & Education Center (CREC)
700 Experiment Station Road
Lake Alfred, Florida 33850
(863) 956-1151 Ext. 1228 fax: (863) 956-4631
Reza Ehsani specializes in advanced harvesting technologies. He brings to his job experience from several states and countries as well as honors including a scholarship from the Japanese Society for the Promotion of Science and Blue Ribbon Awards for his educational projects from the American Society of Agricultural and Biological Engineers. He came to the UF Citrus Research and Education Center in 2005 to focus on the needs and interests of Florida's extensive citrus industry.
At the grocery store or roadside fruit stand, we see citrus fruit neatly stacked in pyramids or piled in bushel baskets. The abundance of citrus is a sight that many people identify with Florida, and these iconic images have gone around the world on millions of postcards. Citrus came to Florida with the Spanish in its earliest days, but was first developed as a commercial crop in the nineteenth century. Since that time, Florida citrus has acquired a worldwide reputation and become a major player in the state's economy.
However, in the last 50 years, Florida citrus has faced a series of challenges that have changed the economics of producing this crop in significant ways. Interstate and international competitors, new pests and diseases, production costs and conditions, some serious freezes, and even hurricanes have all taken their toll on Florida's citrus industry.
Nevertheless, we could paraphrase Mark Twain's words: any report of the demise of Florida's citrus industry is an exaggeration. As the author of a recent UF report on the future of citrus observed, the citrus industry is very resilient. Florida produces roughly two-thirds of the annual U.S. crop of 10 million or so tons, dominating orange and grapefruit production. Over 90% of Florida's citrus becomes juice. Demand for citrus -- especially oranges -- continues to grow both in the U.S and overseas. So even though the citrus industry may contract somewhat in the near future, the value of citrus continues to rise.
This brings us back to the real challenges that citrus producers face. Maintaining and developing Florida's citrus industry are the main tasks of the Citrus Research and Education Center. With the many years of combined experience of its researchers, educators, and trainers, and its unparalleled outreach and rapport with producers, the CREC is vital to Florida citrus and the economic life and image of the state.
And this is where researchers/educators like Reza Ehsani come in. He is looking for ways to make the citrus industry more profitable by developing and introducing harvesting techniques based on the latest technologies. His work is fascinating and ingenious and touches on areas of mechanics, electronics, satellite and aerial imagery, and robotics -- all aimed at giving Florida's citrus producers an additional edge.
Ehsani's prime target is improving the bottom line for producers by lowering the cost of harvesting, but his research has important implications for other aspects of citrus production. Ehsani says that a major problem for the citrus industry is the shortage of laborers for harvesting. Oranges must fully ripen on the tree, and when they are ready, they must be harvested in a timely and efficient manner; otherwise fruit will become overripe or spoil. The majority of Florida's oranges are harvested by hand, but this process is time-consuming and labor-intensive. According to Ehsani, recent changes to immigration laws and competition from other labor-intensive industries, such as construction, have resulted in a significant labor shortage in the groves.
A small percentage of Florida oranges are mechanically harvested, and this method is much more efficient than hand harvesting and generates significant labor savings. Ehsani explains that basically mechanical harvesters shake the tree canopy and catch the fruit as it falls. The first mechanical harvesters stopped at each tree and shook it by its trunk, but this form of harvesting is no longer used for citrus. More recent harvesters use long metal rods to gently shake the canopy of the tree itself and do not stop at all, moving steadily down one row of trees after another. While mechanical harvesters have advantages over hand harvesting, there is room for improvement. For one thing, in addition to the fruit, mechanical harvesting tends to pull down a lot of leaves and twigs. This trash must be separated from the oranges for several reasons, but finding a mechanical means of doing this is tricky. Ehsani has been collaborating with another ABE researcher, Daniel Lee, to develop and test conveyor systems that can remove trash while the oranges are being transferred from the harvester to the fruit hauling trailer.
Another project that Ehsani is working on involves an Unmanned Aerial Vehicle, or UAV. Large UAVs are used by the military, but small UAVs have now been developed that are affordable for even small producers to take aerial images of their groves. The new generation UAV that Ehsani is experimenting with offers many new opportunities -- it is inexpensive, battery powered, fully automated, and GPS guided. The device can be programmed for a 20-minute flight that can take it up and over a grove and return real-time aerial images. These images can be further processed to determine exactly which trees need nutrition or are affected by disease. This saves producers a lot of time by alerting them to problems or needs without having to walk an entire grove, and it gives them a viewpoint they would not normally have. In addition, because it is simple and inexpensive, these UAVs can be flown as often as needed. The same service using an airplane would be prohibitively expensive for most producers, which limits such flights to about once a season.
In another application that integrates several of Ehsani's specialties, he described an autosteering tractor that uses GPS navigation and an onboard computer to drive straight up and down the rows of a field with great precision. At the same time, the tractor can pull devices that till, plant, or perform other needed operations. Ehsani had worked with these devices in vegetable crops and in strawberry fields, but he had not seen them used in citrus and immediately saw the potential. He proposed this technology for planting new groves and cut the cost of doing so in half.
Ehsani brings a twenty-first century approach to the traditions of the agricultural engineering profession. He uses the latest technology to solve producer problems and to make their operations more efficient, more profitable, and more productive.
Professor
Dr. Ehsani specializes in mechanical harvesting, precision agriculture, GPS/GIS applications, sensors and automation for agricultural systems and wireless networks.
Research and Extension
Improving yield monitoring systems for citrus mechanical harvesters
Evaluating the dynamic accuracy of GPS receivers in groves
Applications of wireless sensor networks for groves
Soil moisture and compaction sensor
Organize a yearly conference on application of precision agriculture and mechanical harvesting for citrus
Provide outreach education materials on application of GPS/GIS and sensor technology to citrus production.
Education
Ph.D Biological and Agricultural Engineering, University of California at Davis
M.S.. Agricultural Engineering, Tehran University
B.S. Agricultural Engineering, Tehran University
Professional Experience
2011-Present
Associate Professor University of Florida, Agricultural and Biological Engineering Department (30% Extension, 70% Research)
2005-Present
Assistant Professor University of Florida, Agricultural and Biological Engineering Department (30% Extension, 70% Research)
2000-2005
Assistant Professor and Precision Agriculture Specialist. The Ohio State University, Department of Food, Agricultural, and Biological Engineering (80% Extension, 20% Research) 
1999-2000
Post-doctoral Researcher, University of California at Davis, Department of Biological and Agricultural Engineering
1994-1998
Teaching Assistant, University of California at Davis, Department of Biological and Agricultural Engineering
Awards and Honors
2016 Citrus Engineer of the Year
2005 Conservation Tillage Conference (CTC) Outstanding Service award
2004 ASAE Blue Ribbon educational aid award for "Ohio State Precision Agriculture Website, http://precisionag.osu.edu"
2003 Japanese Society for the Promotion of Science (JSPS) Scholarship for a two-month research project at Hokkaido University
2001 ASAE Blue Ribbon educational aid award for "An interactive model for selective spraying"
1998 Jastro-Shields Funding Award for Ph.D. research proposal /li>
Other Professional Activities
American Society of Agricultural & Biological Engineers (1990- present)
Institute of Navigation (ION) (2003- present)