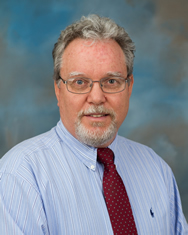 Thomas F. Burks
E-mail
225 Frazier Rogers Hall
P.O. Box 110570
Gainesville, FL 32611-0570
(352) 392-1864 ext.225 fax: (352) 392-4092
Tom Burks wants to bring more automation into agriculture. For 200 years, the story of agriculture has been one of of increasing mechanization. Along with fertilizers, pesticides, and new varieties of plants, machines in agriculture have transformed the United States from a nation of farmers to a nation where fewer than 2% of our citizens produce the food that all of us eat. But the world continues to change and so does agriculture. Indeed, many aspects of US agriculture are mechanized, but many are still labor-intensive, with the risks and inefficiencies that implies. When labor is cheap, the decision is an easy one, but as labor costs increase, so do the opportunities --- and the need --- for automation. Also, many workers are attracted away from agriculture by trades in construction in which semi-skilled labor earns higher hourly wages.
Burks sees many opportunities for automation, where new technologies could increase productivity and quality. In his view, agricultural producers no longer have a real choice. To remain competitive and to meet the food challenges of the coming century, producers will need to look beyond traditional approaches and see the long-term advantages of automation. Among those advantages are that machines can work tirelessly, and their accuracy is the same at the end of the day as it was at the beginning. Automation is not cheap, and machines need upkeep and periodic replacement.
Burks says that he could solve problems in agriculture more easily if the budgets were unlimited, but ultimately, engineers have to find the right balance of function and affordability that will increase product quality and profit margins. Burks was raised on a farm, and he understands this balance from personal experience.
Even if there are fewer workers in an operation, those workers are freed from repetitive manual tasks and can provide enhanced quality in the operation. For the workers, their tasks can be more meaningful, more engaging, less stressful, and safer. For the employer, the reduced staff means lower short-term and long-term labor costs and lower liability in terms of worker health and safety.
Even if there is a one-word description of what Burks does, a lot goes into that one word. What automation means in a practical sense is bringing together a variety of technologies and integrating them into a system that performs its task at a high level of accuracy and efficiency. A machine has to offer significant advantages over human workers if a producer is to make the investment and entrust part of the operation to it.
Burks' lengthy training has given him expertise in a wide array of areas, including optics, sensors, computers, and machines. Specialized computer hardware and software are at the core of any modern device. Sensors gather information and feed it into the computer for decision-making, and based on instructions, the computer controls mechanical devices to perform physical tasks. Some of the devices Burks builds are part of other machines in assembly-line situations, some are vehicles that move on their own but carry human operators, and others are full-fledged robots that are programmed to perform tasks without human assistance.
In a recent project for the citrus industry, Burks was invited to design a system that could automatically detect fruit affected by a disease called citrus canker. This disease is caused by a bacterium that infects the skin of citrus fruit and produces black circular lesions. It can also cause fruit to fall from the tree before it has matured. The disease is highly contagious to other citrus trees, and if Florida's citrus crop is to be shipped out of state, producers must certify that certain procedures have been followed.
These procedures required that each harvested fruit be inspected for evidence of infection. Considering the millions of citrus fruits that are harvested each year in Florida and the importance of citrus to the state economy, this is a critical and demanding task. The requirement added another step and more personnel to operations already running at low profit margins. Human inspectors typically examines between five and ten fruits per second with a high level of accuracy, but their accuracy decreased during a single shift.
The central challenges Burks faced were, first, designing a system that could recognize citrus canker and distinguish it from the other kinds of marks, stains, and scars that citrus fruit commonly bear, and second, building a system able to examine ten fruits per second with greater than 95% accuracy. Burks used several types of optical systems to find a distinctive optical signature of citrus canker, including multispectral and hyperspectral methods. The system had to use the simplest feasible method because it had to work fast. As fast as computers can be, they have their limits, and Burks sought the right combination of optical methods and computer software that could work at the required speed.
Burks succeeded in developing a system with all the desired qualities, but in October 2009, the USDA changed rules regarding the citrus exports. Research found that the chance of infection by citrus fruits treated with disinfectants was quite low, and therefore, the fruit-by-fruit inspection was no longer needed. Nevertheless, Burks' project served as a proof of concept, and other applications may be found for this technology.
Florida citrus is also threatened by a more serious disease called citrus greening, also known by the name huang long bing, or HLB, and it is also caused by a bacterium. HLB attacks all parts of the citrus tree and leads to decreased productivity and the death of the tree. Where the citrus canker project required examination of fruit on an assembly line, HLB has to be detected in the field. The project draws on Burks' expertise in optical detection systems, but there are added challenges because the device must be mobile, and it must be able to detect and distinguish disease symptoms under many different lighting conditions and on several very different kinds of surfaces. Again, the importance of the problem motivates finding solutions in spite of these complications.
For several years, Burks has been working on the problem of robotic harvesting. This project involves designing a device that can go out into the field, probably on a vehicle driven by a human operator, which can recognize fruit that is ready to pick, remove the fruit without damaging it or the plant, and place the fruit in a bin, again without damage. Human operators perform this task fairly quickly, but they have the advantage of brains that integrate extremely complex visual systems with equally subtle manual systems. Solving the same problem for a machine means taking the problem apart and finding a solution for each part, and then putting the parts together into a working system.
Burks is currently focused on the optical recognition part of the program. The question could be put like this: If we plug a camera into a computer, how can we train the computer to find fruit hanging among the leaves in a tree? To get an idea of the challenge, imagine that you are looking at a tree on a television and using a telephone to instruct someone wearing a blindfold how to harvest the fruit.
Like many professors, Burks is engaged in many projects at any given time, some large and some small. Burks tackles this workload with the assistance of a half dozen graduate students and several technicians. He guides their efforts through the Agricultural Robotics and Mechatronics Group (ARMg), which also draws on the expertise of other ABE professors with related research activities.
Professor
Dr. Burks specializes in robotics and machine systems development; computer vision, neural networks and controls for agricultural production and harvesting; precision agriculture; and materials handling automation.
Teaching
Research and Extension
Fruit Disease Detection using machine vision
Autonomous green house sprayer vehicle
Geospatial shock and vibration data acquisition
Automated citrus harvesting

a. Vehicle guidance
b. Multispectral Imaging
c. Robotic end effector's development
d. Visual servo control
e. Manipulator development
f. Target recognition
g. Simulation of automated harvesting systems
h. Fresh fruit grading, sorting and handling
Education
Ph.D. in Biosystems and Agricultural Engineering, University of Kentucky (1997)
M.A. in E.Stanley Jones School of Missions at Asbury Seminary (2000)
M.S. in Electrical Engineering, University of Kentucky (1993) M.S. in Biosystem and Agricultural Engineering, University of Kentucky (1989)
B.S. in Agricultural Engineering, University of Kentucky (1978
Professional Experience
2014-Present
Professor, UF Agricultural and Biological Engineering Department, Robotics and Machine System Research
2007-2014
Associate Professor, UF Agricultural and Biological Engineering Department, Robotics and Machine System Research
2000-2007
Assistant Professor, UF Agricultural and Biological Engineering Department, Robotics and Machine System Research
1997-2000
Post Doctoral Scholar, University of Kentucky
1993-1997
Research Assistant, University of Kentucky
1989-1992
Project Engineer, FMC Corporation
1985-1989
Research Assistant at the University of Kentucky
1978-1985
Engineering Manager, Chief Industries, Inc., Grain Bin Division
Awards and Honors
ASABE Outstanding Reviewer Award 2009
TAU BETA PI, Honor Society of Engineering
GAMMA SIGMA DELTA, Honor Society of Agriculture
ALPHA EPSILON, Honor Society of Agricultural Engineering
Other Professional Activities
American Society of Agricultural Engineers
Institute of Electrical and Electronics Engineers
Manuscript reviewer for Transactions of ASAE: IET and PM divisions