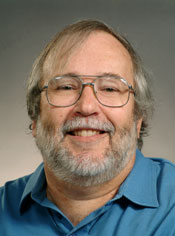 Ray A. Bucklin
E-mail |
Department of Agricultural and Biological Engineering
169 Frazier Rogers Hall , PO Box 110570 Gainesville, FL 32611
352-392-1864 ext. 169
Ray Bucklin summarizes his recent work in three words: cows, greenhouses, and particles. With characteristic humor, he downplays a prestigious career, acknowledged by numerous awards and being made a fellow of the American Society of Agricultural and Biological Engineers. Bucklin's work in Florida has been applied in many tropical and subtropical regions. In 2007, he received ASABE's Henry Giese Structures and Environment Award for contributions to agricultural structures that have resulted in an improved food supply for people around the world. His career is a wonderful example of how an engineer is led from one interesting project to another through unexpected connections.
Cows --- When Bucklin says "cows," he refers to over 20 years of work with Florida's dairy producers to solve problems and keep them profitable and competitive. Dairies are important to Florida's growing population, yet as costs and pressure from development increase, profit margins decrease. Bucklin and others help this industry adjust to constantly changing economic, social, regulatory, and physical environments.
The central problem for Florida dairies is raising cold-climate animals in the tropics. The important dairy breeds, such as Holstein and Hereford, come from northern Europe. Florida's heat stresses these animals and reduces milk production. Making cows more comfortable can help. Even small improvements make a difference --- small, that is, for a single cow, but substantial when multiplied by a 1000-cow herd.
Bucklin first worked on structures and cooling systems to shelter cows from the heat. Then he turned his attention to bedding. Cows spend most of their day lying down, and Bucklin has worked with producers to explore bedding options, including special water beds. These heavy duty, belted rubber beds are expensive, but they have advantages over traditional bedding, such as straw, sawdust, or sand. Water beds tend to stay drier and are easy to clean, which promotes animal health. However, some bedding material is necessary because the beds have a rough surface which can lead to abrasions. The trick is finding the right mix of materials that accommodates the cow's needs and the owner's budget.
More recently, Bucklin has been concerned with hoof wear. Florida cows spend a lot of time on concrete floors. This can wear down hooves and affect the soft tissues underneath. The cow may experience discomfort or pain and be discouraged from standing and feeding. Sores and infections can also develop. Bucklin has been looking at various kinds of floor coatings that can reduce this wear. The choice of flooring has to take into account the habits and weight of a large animal and the conditions in a dairy. Again, finding the right balance of durability, safety, and economy is an ongoing challenge.
Greenhouses --- Ray Bucklin has worked on a lot of greenhouses, but he has taken this work to a new level — literally. Bucklin became involved a few years ago with the NASA effort to explore plant growth systems that could be used on extended space missions, such as a mission to Mars. To look into this, Bucklin and team developed a table-top growth environment --- a miniature domed greenhouse --- in which all conditions could be carefully controlled and monitored.
In the dome, Bucklin's students grew lettuce for weeks at a time at pressures as low as one quarter of normal atmospheric pressure, similar to that on Mars. Growing plants at reduced pressures is critical because a dome at full earth pressure on Mars would require special materials and heavy structures. The energy cost of moving materials from earth to Mars is enormous, so if plants can grow at lower pressures, the structures can be simpler and lighter. The dome could also help recycle air and water for a long-term mission.
Despite promising results, NASA reduced funding for space biology research and work stalled. Fortunately, a bequest to NASA dedicated to long-term space habitation has recently made some funds available to extend this work.
Particles --- The particles Bucklin studies range from rice to potatoes. These and many other particulate products are handled in bulk, which poses special engineering challenges.Every industry that handles materials of this type must address these challenges.
The behavior of particles in bulk is a science in itself, and while a grain of rice may seem more like a particle than a potato, the science is useful for both. Particles behave like solids in some ways and like fluids in others. At this time, there is no way to predict the behavior of a specific particulate material. Therefore, the unique properties of each material must be determined in order to design handling equipment and manufacturing procedures.
Research on particles can be used in many stages of food processing. Bucklin concentrates on the post-harvest phase. This is the period after a commodity has been harvested during which there will be storage, handling, shipping, and other procedures needed to get the commodity to market or a processing plant in good condition.
Bucklin researched the post-harvest storage of rice in college. Since then, he has built up expertise on storage and handling which he has applied to a number of commodities, recently focusing on Florida's potato industry.
Potatoes are an important commodity in Florida, which is the top potato producer in the southeast, and ranked about 12th nationally. Despite their appearance, potatoes are delicate in the post-harvest phase. Bucklin is working to generalize his expertise in grains to handle crops like potatoes more efficiently and with fewer losses. Though potatoes are much larger than grains, they are much softer, and where a grain might break, a potato will bruise.
Bucklin is working to characterize the behavior of potatoes as a first step in understanding how they are affected by forces encountered during post-harvest storage and handling. In recent work, he has been looking at what he calls "potato flow." It might seem like too elegant a word for potatoes, but when talking about moving tons of potatoes, it is just the right word for the smooth and efficient handling this commodity requires.
Professor
Dr. Bucklin specializes in agricultural structures; livestock housing and heat stress relief for hot, humid climates; grain drying and storage; structures for plant production; space agriculture and biology.
Teaching
Research
Member of UF's Engineering Research Center for Particle Technology (PERC); Conduct research dealing with flow of bulk solids.
Member of UF's Center for Space Agriculture and Biotechnology Research and Education (SABRE). Conduct research dealing with methods of growing plants for long -term space missions.
Develop improved methods of cooling livestock housing in hot, humid climates.
Education
Ph.D. Agricultural Engineering, University of Kentucky, 1982
M.S. Agricultural Engineering, Louisiana State University, 1978
B.S. Agricultural Engineering, University of Southwestern Louisiana, 1972
Professional Experience
2014 – Present: Professor, UF ABE
2007 – 2014: Professor & Graduate Coordinator., UF ABE
1994 – 2007: Professor, UF ABE
1989-1994: Associate Professor, UF ABE
1982-1989: Assistant Professor, UF Agricultural & Biological Engineering Dept
1980: Instructor, University of Kentucky Engineering Mechanics Dept
Awards and Honors
Elected to Rural Builder Hall of Fame 2008 Fellow, ASABE 2008
Henry Giese Structures and Environment Award 2007
President, Gamma Sigma Delta UF Chapter 2007-08
Gamma Sigma Delta Senior Faculty Award 2005
Alpha Epsilon 2001-2002
Agricultural & Biological Engineering Department Outstanding Teacher Award
ASAE Structures and Environment Director's Citation
University of Florida Superior Accomplishment Award
Graduate School Fellowship (Univ. of Kentucky)
Graduated with Highest Distinction (University of Southwestern Louisiana)
Awarded the Southwestern Award of Merit for Extra-Curricular Activities (University of Southwestern Louisiana)
Academic Scholarship (University of Southwestern Louisiana)
Other Professional Activities
American Society of Agricultural & Biological Engineers
American Society of Civil Engineers
American Concrete Institute
Society for Experimental Mechanics
Structural Stability Research Council