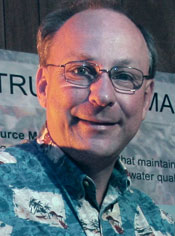 Brian Boman, P.E.
E-mail | Webpage
University of Florida, IFAS
Indian River Research and Education Center
2199 South Rock Road
Fort Pierce, FL 34945-3138
Phone: (772) 468-3922, ext 122
Fax: (772) 460-3648
Brian Boman did not anticipate how successful his program would be, but his work promoting Best Management Practices to Florida growers has taken off. With a background in agricultural engineering, Boman's primary focus since coming to Florida has been water management in the citrus industry in the Indian River production area. However, the program that began there has grown to include water management and nutrient runoff for other agricultural and horticultural producers across Florida. At the core of the program, Boman and his colleagues help growers examine their water and fertilizer use, often finding that substantial savings can be achieved. Then they work with growers to develop plans and adopt new practices and technologies. Reducing water and chemicals has important environmental — and financial — implications.
It started in 1998, when an algal bloom in the Indian River Lagoon resulting in massive fish kills created a local crisis. An important cause of the bloom was increased levels of nutrients in the water feeding the lagoon. It is sometimes said that a weed is the right plant in the wrong place, likewise, the fertilizers that are such an important part of modern agriculture can be washed into local streams and rivers and concentrate in catchments like the Indian River Lagoon, where the fertilizers foster algal growth. The growth can be explosive, turning the water into a brightly colored algal soup. However, these plants are short-lived and the masses of dead plants begin to decay and absorb oxygen from the water. This deprives fish and other species that live in the water of the oxygen they need, and so algal blooms can lead to massive fish kills.
In response to the 1998 event, Boman began to work with Indian River citrus growers to reduce nutrient runoff. To accomplish this, Boman helped growers examine both their water use and fertilizer use. Consensus built slowly, but growers who welcomed Boman's advice found that not only was their impact on the local environment lessened, but they were also able to maintain or improve profits while reducing their costs for water and fertilizers. As Boman puts it, "Maximum yield does not always mean maximum profit." There were other players in addition to the growers. Boman also became familiar with local government, regulatory agencies, and local environmentalists. His efforts benefited all these groups, but he found that they were often suspicious of each other.
As an Extension educator, Boman was able to help different groups understand each other better. He cites a conversation with a group of environmentally concerned citizens about growers' use of pesticides. Working from the list of approved pesticides, the environmentalists assumed that growers were using the full range of chemicals and using them at the maximum approved rates. Boman explained that growers often use pesticides as sparingly as possible for the simple reason that the chemicals cost money, and some can be quite expensive. For example, the pesticide Ethion can be applied every 90 days according to the regulations, but it is so expensive, that growers are likely to use it only once a season and only if they really must. Through this conversation and many others, Boman has educated the non-farm community about real agricultural practice.
Another success of the program is its funding support. For several years, Boman's work was supported by competitive funding from the U.S. Environmental Protection Agency granted through Florida's Department of Environmental Protection, so its continuation was not assured. However, as the program and its successes have continued, the funding has become secure, and additional agencies are contributing. The project receives funds from the Florida Department of Agriculture and Consumer Services (FDACS), St. Johns River Water Management District, Southwest Florida Water Management District, South Florida Water Management District, and the Hillsborough Environmental Protection Commission. Boman's program is requested statewide, and by all indications, it will continue to grow.
As Boman has received new requests for his program, he has also been challenged to find ways to make a difference in agricultural communities that are less homogeneous that the Indian River citrus growers among whom he developed his approach. In addition to citrus, BMP programs have being developed for all types of agriculture ranging from vegetable and row crops to cattle, tropical fruit, ornamental, blueberry, sod, and even for horse owners. Each of these situations presents its own problems.
One of these challenging areas has been the Homestead area of south Florida, where a lot of agriculture is practiced on the doorstep of some of Florida's most environmentally important and sensitive areas. Boman's experience in the Indian River area had been with a limited number of growers who were well established. In the Homestead area, however, he found many small producers who were working on leased land. With so many more producers, getting the message out and building consensus is more challenging. Also, because much of the land is leased and the owners are out of state or even out of the country, the sense of commitment to the area and its environment is not as strong. But with more stable funding and support from local agencies and governments, Boman and his south Florida colleagues will have the time and resources to meet the challenges and have an impact on this area. 
Whatever the challenges, Boman remains energized by the many success stories his program has generated.
Boman's far-ranging interest in agricultural engineering has taken him all over the world. He has worked on projects in Central America and Central Asia, in the heat of Egypt and the cold of Siberia. Recently, he headed to Haiti in the aftermath of the devastating 2010 earthquake to assist farmers there. His goal was to spend a week helping to build a "hoop house" on a mountain top. A hoop house is a greenhouse built by stretching large sheets of plastic over rows of PVCl hoops. Hoop houses provide an opportunity for intensive agriculture because crops can be grown on several levels in the house. By constructing long platforms in the house, shade-tolerant crops can be grown on the ground, plants that need more sun can be grown on the platform, and climbing or tall crops can be grown right up to the top of the structure. Boman's goal was to create an example of this kind of vertical agriculture and give Haitians an additional tool in fighting the hunger that has plagued the country for years.
Professor
Dr. Boman's work involves research and extension activities concerning water management within the citrus industry of Florida's Indian River Area. Areas of research include irrigation and drainage systems, operation and maintenance of water management systems, citrus water use, fertigation, and foliar nutrient applications to enhance citrus fruit size.
Research & Extension
Coordinator of a statewide program promoting the use of best management practices, or BMPs by growers and residents. In this capacity, Boman serves as a liaison between the UF, state agencies and grower organizations to oversee development of BMPs. He coordinates research and demonstration projects around the state to enhance water quality and natural resources.
Education
Ph.D. Utah State University, Agricultural and Irrigation Engineering, 1985
M.S. Colorado State University, Agricultural Engineering, 1983
B.S. North Dakota State University, Agricultural Engineering, 1976
Professional Experience
2006-present: Professor, University of Florida, Indian River Research and Education Center
1986-2006: Assistant and Associate Professor, University of Florida, Indian River Research and Education Center
1983-1985: Graduate Research Assistant, Utah State University
1983-1985: Water Management Consultant - New Mexico
1979-1983: Civil Engineer, U.S. Bureau of Reclamation, Farmington, NM
1977-1979: Drainage Engineer, U.S. Bureau of Reclamation, Bismarck, ND
1976-1977: Design Engineer, Wahpeton Canvas Co., Wahpeton, ND
Awards and Honors
ASABE Florida Section Distinguished Achievement Award 2014
UFIC International Educator of the Year, Senior Faculty, 2012
University of Florida Superior Accomplishment Award, 2012
IFAS Superior Accomplishment Award, 2012
Blue Ribbon Award for recently published book, "Water and Florida Citrus: Use, Regulation, Irrigation, Systems and Management" by The American Society of Agricultural Engineers.
Golden Gator Award Trophy from the UF Communications Network for the abovementioned publication.
Bronze ACE Award by Agricultural Communicators in Education for Video News Release.
Two Outstanding Paper Awards by the Florida State Horticultural Society.
Featured Poster Award in Irrigation Category by International Society of Citruculture.
Other Professional Activities
American Society of Agricultural Engineers
American Society of Civil Engineers
International Society of Citriculture
Florida Irrigation Association
Florida State Horticultural Society
Soil and Crop Science Society of Florida