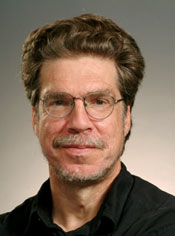 Howard W. Beck
E-mail |
Department of Agricultural and Biological Engineering
Building 162, PO Box 110495 Gainesville, FL 32611
352-392-3797
Dr. Howard Beck's office can surprise a visitor. Instead of piles of books, files, and papers, there is one small bookshelf, a small laptop, and a professor. But despite the state of his actual desk, Beck's laptop computer is packed with projects. His research into databases, computer intelligence, and virtual worlds is in demand in many areas. On that small laptop, he takes a visitor on a guided tour of his work that starts with programming concepts and ends with virtual three-dimensional forests so rich in detail that students get lost in them.
Beck's background is in electrical engineering, information technology, and philosophy. For many years, he focused on databases, building storage and retrieval systems for a variety of programs at the University of Florida. But Beck's interest in artificial intelligence motivated him to look for a way of storing knowledge, not just information.
Beck found what he was looking for in the ontology, a kind of computer software which stores information, like a database, but also stores connections and definitions. Databases and ontologies "see" information in fundamentally different ways. Databases store information in massive tables. Ontologies start with databases, but add other layers of connections and definitions. The ontology sees information as chains of relationships, which gives meaning to the information.
It's the difference between looking up a friend in a phone book and explaining to someone how you know that friend. In the first case, it's about data, and in the second case, it's about knowledge. The technical differences are complicated, but ontologies are very powerful ways of storing knowledge, and then using it in other applications.
Ontologies can be built for any domain of human knowledge, and Beck has developed databases and ontologies in many areas. Nevertheless, his primary interest is agriculture and the life sciences, and he works with several agriculture professors to develop applications of knowledge-based systems.
Database Applications
One of Beck's most successful projects created is a publication system he created for the Florida Cooperative Extension Service. The Electronic Data Information Source, or EDIS, stores thousands of publications created by UF Extension professionals covering many agricultural and natural resource topics. These publications are made available to the public though the EDIS Web site. At the core of EDIS is a database that stores the parts of a publication and allows them be assembled in different formats, such as Web pages or PDFs, when needed. However, EDIS does more than store and retrieve publications, it is the heart of a publication management system that supports authors in writing publications, cataloguers in managing the collection, and users in searching or printing publications.
Beck's main work with the University of Florida Libraries has been developing their Digital Library. These systems make the library's holdings available over the Internet. UF Library digital collections include the Digital Library of the Caribbean, the Florida Digital Newspaper Library, and the Baldwin Library of Historical Children's Literature Digital Collection.
In recent years, Beck has worked with a unique project called "Aymara on the Internet." Aymara is a language spoken by about three million people in Peru, and it is one of the few Native American languages spoken by so many. Beck was approached about creating a Web site that would help researchers collect and display the grammar and vocabulary of this language and cultural information about the Aymara people. The site he and his team created even allows users to learn basic Aymara.
Ontology Applications and Digital Worlds
Beck has worked on numerous collaborations to apply his expertise in ontologies, including the United Nations' FAO Agricultural Ontology Project, and closer to home, projects on Best Management Practices with UF professors Brian Boman and Michael Dukes, and with other faculty in areas as varied as water conservation, greenhouses, and packaging.
Beck worked with Dr. Sabine Grunwald, an expert in soils and environmental quality to develop an ontology-based simulation of how water flows through organic soils. Specialists can enhance the simulation with new findings, so the simulation becomes a tool for collaboration and for modeling the behavior of the real world.
Ontology-based simulations, such as the one that Beck and Grunwald created, can be the basis of powerful learning environments. Users interact with the simulation through an interface that looks like a video game, but in this application, students investigate highly complex environments and simulate real problems. These "digital worlds" allow students to try various activities without permanent consequences.
Beck participates in a program called the Digital Worlds Institute, which the University of Florida has established to promote development of these virtual environments. The DWI brings together talent from many UF schools, including the arts, engineering, the sciences, and education. The goal is to develop digital simulation technologies for many applications, from education to entertainment. The Institute's innovative approaches have won it important recognition.
Recently, Beck has brought together the software tools he has found especially useful into a package called Lyra. This software suite contains everything needed to build the environments  that he has created for so many projects. He recently gave a presentation about Lyra in which he described how Lyra and virtual world environments (VWE) could be used to create virtual classrooms in which students could collaborate and explore almost any environment imaginable.
Using this technology, Beck and Dr. Bruce Welt, a professor in ABE's packaging program, created a simulation of a food packaging equipment in which students examined equipment in three dimensions, made adjustments to it, and ran it in real time to see how their choices affected the way the equipment runs. VWEs are a good way of enriching student experience with real world activities before they get to the real world.
With so many potential applications of his work, Beck has to use his time carefully. He is waiting now to see which of several pending proposals will be funded, and that will help set his priorities for the next couple of years.
Professor
Dr. Beck specializes in agricultural decision support systems, information retrieval systems, data bases and artificial intelligence.
Teaching
Research & Extension
FDEP Water Conservation Clearinghouse
USDA Crop Biosecurity Curriculum and Southern Plant Diagnostics Network
National Science Foundation on event-based notification
FDEP project on soil water and nutrient modeling using ontology-based simulation
Digital Worlds Institute Opportunity Grant on Virtual Reality Applications (virtual greenhouse)
Education
Ph.D. Computer and Information Sciences, University of Florida, 1990
M.S. Electrical Engineering, University of Illinois, Urbana/Champaign, 1977
B.S.Electrical Engineering, University of Illinois, Urbana/Champaign, 1976
B.A. Philosophy, University of Illinois, Urbana/Champaign, 1976
Professional Experience
2002-Present:UF Professor, Agricultural and Biological Engineering
1995-2001:UF Associate Professor, Agricultural and Biological Engineering
1990-1995: UF Assistant Professor, Agricultural Engineering ; Affiliated Assistant Curator, Florida Museum of Natural History
1986-1990: Institute of Food and Agricultural Sciences (IFAS), University of Florida. Developed intelligent information retrieval systems involving artificial intelligence and database management in conjunction with a graduate program in computer science.
1981-1985: Institute of Food and Agricultural Sciences (IFAS), University of Florida. Worked for the Cooperative Extension Service to develop FAIRS, an agricultural information retrieval system.
1977-1980: Institute of Food and Agricultural Sciences (IFAS), University of Florida. Worked on Computer Aided Instruction (PLATO). Developed educational programs involving ecology, statistics, and computer simulation.
Awards and Honors
Davis Productivity Award, Top Honors, 1998
IFAS Faculty Achievement Award, 1997
1996 1st Place - Extension Materials Award in Commercial Landscape Management for Southern Trees CD-ROM, American Society for Horticultural Science
1995 Davis Productivity Award, Top Honors
1990 Governor's Award for Outstanding Contributions to Science and Technology
Other Professional Activities
American Association for Artificial Intelligence (AAAI)
Association for Computing Machinery (ACM)
Association for Computational Linguistics (ACL)
IEEE Computer Society
American Society of Agricultural & Biological Engineers (ASABE)